Why Strong Logo Ideas Can Make or Break Your Business
Every business needs to spend time and effort on their logo ideas — this is not a time for skimping. Even if you've been successfully running your business for a few months or years, you may not have ever had the time to consider your brand and how it affects the way customers perceive you.
Your brand identity is a visual representation of your business and its values, and if you don't put the time and effort into creating a memorable and effective brand identity, then you could be compromising the future of your business.
A logo plays an important role in an overall brand identity. Not only does a logo symbolize your entire business, but it should also make a lasting impression in your customers' minds. In this article, we explain some reasons that a logo matters – and why you should find a talented and experienced graphic design professional to help you design it.
And, of course, how to expand your logo ideas into a branding silver bullet.
Your Logo Is Your First Impression
Did you know the human brain processes images 60,000 times faster than text? If your customer first "meets" you on the Internet or through a piece of printed marketing collateral, then he or she will likely notice your logo and judge your business before ever interacting with it.
Would you like your customers to think of your business as trustworthy, reliable, and capable? If so, then your logo should capture all those qualities through the font you choose, the color scheme, and the overall design.
Decide on your brand, on your personality, and let it shine. Lean into it. Don't try to be everything to everyone. Leaning into your personality and embracing it wholeheartedly will cut through the crowd of competitors and imitators trying to play it safe. If you're funny, be funny. If your company lives and dies on its authority in the market, be sharp and accurate and respectable. If your company is stylish, your logo must reflect that.
If you scribbled your logo on a napkin and decided to use that initial design without any further consideration, then your logo may look unprofessional and sloppy. Which will not only scare away potential customers, but will eventually disappoint you someday down the line. After all, with your corporate logo on every shirt, coffee cup, product, and bit of swag you get or give as gifts, it's important that your final logo idea be something you can live with for a long time.
Your Logo Can Captivate a Potential Customer
If you run a business in a highly competitive industry, then you know firsthand how important it is to do everything you can to catch people's attention, especially online.
Your marketing efforts need to stand out in a crowd. If your logo is boring and stale, then you may never turn anyone's head. However, if you have a unique, memorable, and interesting logo, then you will likely get people to stop and take notice.
The next important step is to consider that potential customer, that ideal customer of your business.
Don't just brainstorm logo ideas that look cool — consider what your customer likes. If your ideal market is heavy on millennials, consider how socially conscious they are, and how important it is to them that the businesses they support reflect that culture in their branding. In this case, green colors and nature imagery could soften the look of an industrial company. Or, you could use your logo to emphasize your recycling efforts by incorporating those logo ideas into the final product.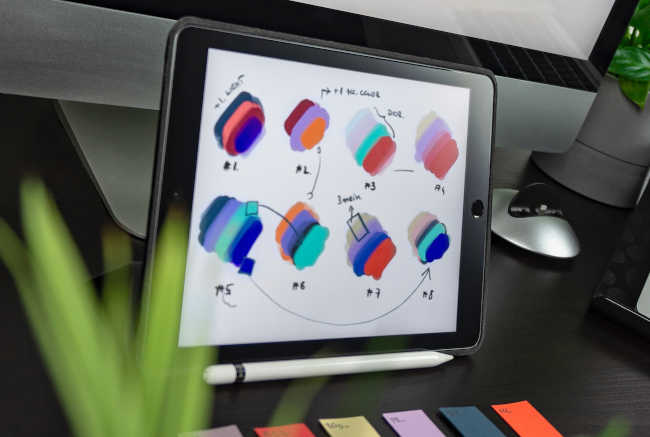 Your Brand Identity Starts with Your Logo Ideas
Before you can even start thinking about your brand identity, you must have a logo in place.
Consider ReadMe, the interactive document creator company. They made sure to stick their adorable little owl logo mascot everywhere on their site, social media, and marketing materials. Sure, it's a cute bird, but their strategy was one of repetition. Their plan was to fix that image in the mind of the consumer, to make it inseparable from their messaging.
But how do you find and create a logo or brand image you feel comfortable slapping on every business card, Twitter post, and catalog?
Ideally, your logo will include your primary brand colors and your signature font. The design of the logo should also capture the aesthetic you want to communicate to your customers. It should also be simple — it's been said that logo designs should be simple enough that a child can draw it from memory.
Once you're happy with your logo, and you think it accurately represents your brand, then the rest of your brand identity can easily fall into place, and your entire brand will look consistent and streamlined.
You'll Create a Sense of Expectation
When you're able to earn new customers and keep them happy, then you'll want to retain them and keep them coming back for more. Ideally, you'll communicate with them regularly and earn their repeat business.
When your logo is memorable, it will set an expectation, and customers will begin to associate it with the amazing experience they had with your business. So stick that awesome logo everywhere you can think of — on your doors, on bookmarks, on rubber stamps, and even on cookies or other fun treats.
As time goes on, customers and peers will start to keep their eyes open for your logo, because they'll be eagerly looking forward to working with you again.
Obviously, hiring a professional is almost always the right choice. However, if you're already talented yourself, or just have a strong sense of aesthetic or desire for design, you can try your hand at making it yourself first. There are plenty of tools and software out there to get you started, all available for varying degrees of skill.
At the very least, you can use those tools to play around with your logo ideas and get a good idea of what you want before you contact a professional. This will save you time, energy, and money. Plus, it'll give you a solid understanding of just how much work goes into creating a logo that will catch the eye.