6 Ways to Use FollowUp.cc You Never Thought Of
Note: This post was originally published in 2016. Since then, we've added new and creative ways you can use FollowUp to be more productive and valuable during the workday.
We have a confession to make: we hate email. Is there anyone out there who truly enjoys seeing a full inbox each morning? Not us.
Because of this, much of what FollowUp.cc helps our customers do is to be more efficient with LESS email. We strive to help our customers close deals, make sales and get things done in less time with less work.
We're generally known for our follow-up reminders, but there's a lot more to what FollowUp.cc can do. Here are six ways you might not have even considered where we can help you be the boss of your inbox — and generate more value for your business.
1. Send it and forget it (oh, and conveniently double your response rate)
Yes, this is actually possible and very real. We recently launched a feature called Auto Follow-ups. You'll see the option in your Gmail compose window when writing an email. Here's what it looks like:

Auto Follow-ups are exactly what they sound like: you compose and send an email like normal and then let us handle the follow-up. You can edit your follow-up template at FollowUp.cc by logging into your account and clicking Auto Follow-up.
Here's an example of an auto follow-up sequence you could set up to greatly increase your response rate: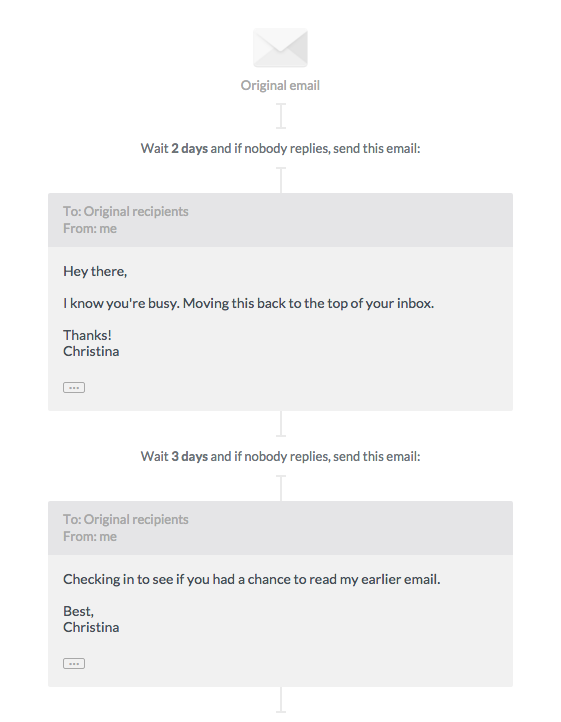 You can edit the time frame and the actual message of each of these pieces of the auto follow-up to whatever suits your needs best. For example, I could add one last message to this sequence set to 10 days later if nobody has still replied and ask if there'd be a better time to connect. Or, I could decrease this to only one email five days later if I don't want to overdo it on following up. There's complete flexibility, but the beauty of the auto follow-up is you can send your original email and forget it – and still increase your chances of getting a response! Give it a shot and watch your response rate soar.
2. Stop letting email distract you from important tasks
There's nothing worse than being heads-down on a really important project and getting an email notification that takes you out of the zone.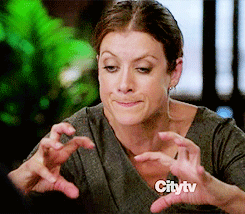 [Image via
Giphy
]
Not only is it frustrating, it's actually really detrimental to your productivity. According to Inc., it takes the average worker 25 minutes and 15 seconds to get back on task after a distraction.
Here's how you can use FollowUp.cc to get back into the zone quicker and easier: simply snooze the email until later. In five seconds or less, you can eliminate the offending distraction and not worry about forgetting to return to it later. The email will disappear and then pop back up in your inbox at the specified time. It's like magic!
Here's how it's done:

Say I'm in the middle of writing my latest blog post, and I get this email from Free People about a top they brought back in stock. I really want to check this out, but I know better – if I click the email, there's a good chance I'll get distracted shopping online for far too long, and I've got stuff to do! So I simply click the snooze icon to the left of the email, snooze it until later today, and then the email will reappear at 6:00 pm. I could also pick an exact date and time if it was a more sensitive email.
OR, if I'm really tempted to get distracted by a group of emails, I can just as easily select multiple emails and select Snooze above and snooze them all at the same time.

Nice try Sephora, Apple and Kate Spade, but I've got a blog post to write!
3. Reach your recipients at the optimal time
While there's no magic prescription we can give you to say "the best day and time to send an email is X," there are general best practices to follow. You want to send your email when less emails are being sent if you're optimizing for a response (which we highly recommend). This means sending email early in the morning or later in the evening after the workday. Generally, inboxes are less cluttered at these times, and recipients have more time to read and respond to your message.
Good news: this doesn't mean you have to be up at 5 am or working until 10 pm in order to ensure a response from your recipient. Simply use Send Later to schedule your email for off-peak times. It's as easy as it sounds! Just click Send Later in your Gmail composer and choose your date and time. (Your email will be sent to your Drafts folder until the specified time when we send it out for you.)

Another benefit to Send Later is if any of your recipients are located in various time zones. You can account for this difference, so they receive your email at the optimal time too.
3 More Creative Ways to Use FollowUp to Boost Engagement
You might see FollowUp as an organizational tool (to help you steer clear of inbox disaster).
But you can also use FollowUp to actively enhance your sales pipeline and better communicate with your users.
Here are three tips for doing so!
Revive cold leads
Take time to go through your inbox and identify initial conversations with prospects that seemed promising — but never went anywhere. Perhaps you dropped the ball (due to your inbox flood?), or they never replied to your last communication.
FollowUp's Tags feature can help you organize and breathe new life into cold leads. Once you have these contacts and conversations grouped, carve out time to reach out to them. This tactic is more efficient than keeping the myriad threads in your memory. Who knows? Your contacts might be thrilled about the reply — and your sales pipeline could quickly swell.
Create a personalized onboarding email series
With Auto Follow-ups, you can also create an email series for new customers.
Check out these templates:
Take time to customize these resources for your particular business and customers. Your contacts will appreciate the personal touch, setting the stage for a long-term relationship.
Upsell happy customers
Just because your customers are pleased with your product or service doesn't mean you can neglect them! In fact, you need to do the opposite.
You have to nurture your current customers in order to keep them engaged and avoid churn. One way to do this is by keeping all of your conversations organized and moving forward. Regular communications can bring to light little details or issues that your customers are facing. If you can help solve them — it could be an opportunity to upsell or cross-sell.
The only way to do this is to stay on top of each thread. If you don't — you could be missing out on value.
Don't Underestimate FollowUp!
There you have it! Six new ways of using FollowUp.cc to work smarter, not harder.
We hope this article expands your understanding of what FollowUp is capable of. It's not simply an organizational tool. If you wield it well, it can be your best ally in leveling up your business.
Tell us in the comments below: are there other ways you use FollowUp.cc to send less email or work more efficiently?

Latest posts by Cormac McCarthy (see all)