How to Stay Fit While Traveling for Business
Are you a busy entrepreneur who is always on the road? Wondering how to stay fit while traveling amid fast food and long drives and a ton of sitting? If so, you may find it hard to commit to a traditional gym membership, since you're not spending enough time at your home base to take advantage of one gym on a regular basis.
But staying fit is extremely important, especially for busy entrepreneurs who hardly ever put themselves first. Even when you're on the road, regularly working out can help you stay focused, productive, and healthy during the longest and most grueling work trips. Working out is a form of self-care with real links to improved mental and physical health.
In this article, we can help you figure out how to stay fit while traveling, even when you're schedule is packed.
Take Advantage of Travel Downtime
Are you waiting for your flight? Do you have a layover? Did you get to the meeting too early? Always have a pair of athletic socks and walking sneakers on hand so you can take a power walk in an airport or around the perimeter of an office building.
Get a fitness tracker or a smart watch to help you create goals and motivate you to reach them. Create a goal of 10,000 steps a day and make a game out of it, trying to fit in the steps wherever you can. Take a couple of loops around the block before entering the conference room, find the furthest bathroom you can at the airport to get those steps in, or even do a little pacing in a waiting room or in your hotel room to reach that daily step count.
Not only will a quick walk help you meet your step goals, but it will also help clear your mind and allow you to release some endorphins to fight stress. You may be tempted to use some of that downtime for trying to stuff in more work or to get back to a work email or Slack chat, but those kind of daily interruptions in your focus can do more harm than good. Grab a moment for yourself, because it'll make you more productive in the long term.
You'd be surprised how much difference a brisk walk can make!
Sign Up for a Membership at a Nationwide Gym
Do you often travel to the same cities for business? If so, you may find that one or more of the major fitness chains have locations in those cities.
Then, you can sign up for a membership and upgrade your membership to an option that allows you to visit any location in the country. Some of these fitness chains include LA Fitness, CrossFit, and 24 Hour Fitness.
24 Hour Fitness has over 420 gyms across the United States, while LA Fitness has over 700 gym locations. It should be entirely possible to grab a membership and find a spot near you if you're traveling in the U.S.
Obviously, international travel is going to complicate things. So if your business is taking you across borders and oceans, it might be wiser to look to hotel chains for your fitness needs.
Stay at Hotels with Fitness Programs
More hotel chains are realizing that business travelers want fitness amenities. According to Statista, 35% of travelers rate a hotel having a gym as "very important," with an additional 36% calling it "somewhat important." That's more than two-thirds of business travelers who are at least interested in physical fitness during business trips. And hotels are listening.
Hotels have had communal gyms for a while, and even the smaller chains are making improvements to their fitness centers. Some have added more interesting fitness choices like basketball courts, CrossFit equipment, yoga classes, simulated-surfing classes, and Pilates gear.
Did you know that the Westin has been loaning New Balance gear to guests for years? Not only is this thoughtful for guests, but it also means you won't have to pack running shoes, gym towels, or other gear in your suitcase. Instead, you borrow the gear, use it, and return it for cleaning any time before checkout. And don't worry, the socks are new, and you get to keep them.
Recently, Hilton incorporated in-room fitness at some of their properties, so you can try their Five Feet to Fitness concept by simply rolling out of bed. This program has created individual hotel rooms that double as gyms. They have the usual amenities — a bed, a desk, a bathroom — but they also come with an alcove full of fitness equipment. This typically includes things like a stationary bike, yoga mats, balance balls, free weights, resistance bands, and a television with access to health and fitness instruction content.
And best of all, they're being used: around 60% of guests say they made regular use of the in-room fitness zones.
Do a little research before you book your next hotel — you might be surprised by the breadth of options hotels are creating that can show you how to stay fit while traveling.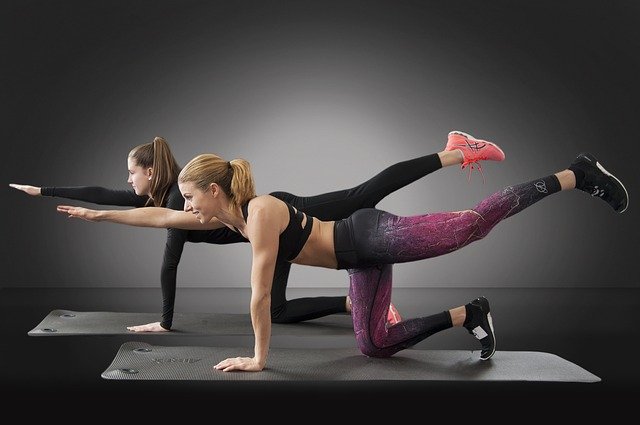 Find a Workout That Fits Right into Your Hotel Room
If the choice of hotel is not always in your control, that doesn't mean you have to give up and accept an unhealthy lifestyle. Sure, the fancy hotel gyms and fitness programs might not be available to you, but maybe you don't need all of the bells and whistles. Instead, consider throwing on your sweats and getting to work right in your room.
Thanks to YouTube, you can find many effective workout routines that are perfect for cramped hotel rooms.
Some of these workouts are even low-impact, so your downstairs neighbors won't complain about the noise from your jumping jacks and burpees. One of our favorite workout YouTube channels is BodyCoachTV, which features entire playlists of short, hotel-friendly workouts that don't require any equipment. Beware: just because you're not at the gym doesn't mean you won't sweat!
Now that you know how to stay fit while traveling for business, you have no excuse to be sedentary during your next trip!
And don't stress about losing time exercising when you could be working. As Chris Savage — CEO of Wistia — had to say in a recent article about hustle and self-sabotage amongst business leaders: "Every time I've let myself get to a place where I'm not exercising, where I'm not meditating, where I'm generally not taking care of myself, I always end up doing my worst work."
Take care of yourself. There really isn't a down side.