Get a Head Start on Your Holiday Email Marketing Campaigns
This is a guest post from Max Rice, cofounder and CEO of Jilt.
If you're an email marketer for an e-commerce brand, you can't afford to ignore this time of year. According to CNBC, online sales for the 2017 holiday season hit $108.2 billion (a 15% jump over 2016's sales). The 2018 season in particular is "the longest it can be," at 32 days, according to a new Coresight report, cited in Retail Dive. It's prime time to hook customers, who are eager to make purchases.
The holidays are also a unique time for e-commerce brands for another reason. It's one of the only times of year when people are excited to get promotional emails. Why? Because those emails often come with discounts, deals, and specials—right at the time when consumers have the extra motivation of gift giving to open their wallets. It's a great opportunity for companies to release new products and remind viewers of the value of existing ones.
You don't have to offer steep discounts that will cut into your margins, but it's still smart to do something unique, even if it's just offering customers a new way to explore products on your website or compiling a holiday gift guide to help them make shopping more efficient and inspiring for their family and friends. There's too much potential to make money during this festive season to sit by and watch. Get creative!
Here are some ways to maximize sales with your 2018 holiday email marketing campaign.
Harness the season's natural sense of urgency
Urgency is a powerful concept that marketers have been using for ages to drive greater engagement and, ultimately, sales. It's based on the fear of missing out (or FOMO). This is why most brands highlight the end dates of their promotions. The deadline lets customers know, "If you don't buy before this date, you'll miss your chance!"
You can leverage the urgency that's built into the holiday season. Shoppers have a small window in which to make their purchases before they see their families and friends. They also need to order enough in advance so there's time for shipping.
Leverage that pre-existing urgency by:
Adding an end date to all sales and promos.
Offering early-bird pricing to get people to buy sooner.
Publishing last chance to order dates (based on shipping timelines for customers to receive their orders by the holiday), or last dates to take advantage of different shipping tiers.
You could quickly see results.
Craft subject lines that truly stand out
Compelling subject lines are always important in email marketing—but especially at the holidays when you're trying to stand out in a crowded inbox full of treats for your customers.
When VerticalResponse looked into holiday subject lines, they came up with a list of the top 20 most effective words.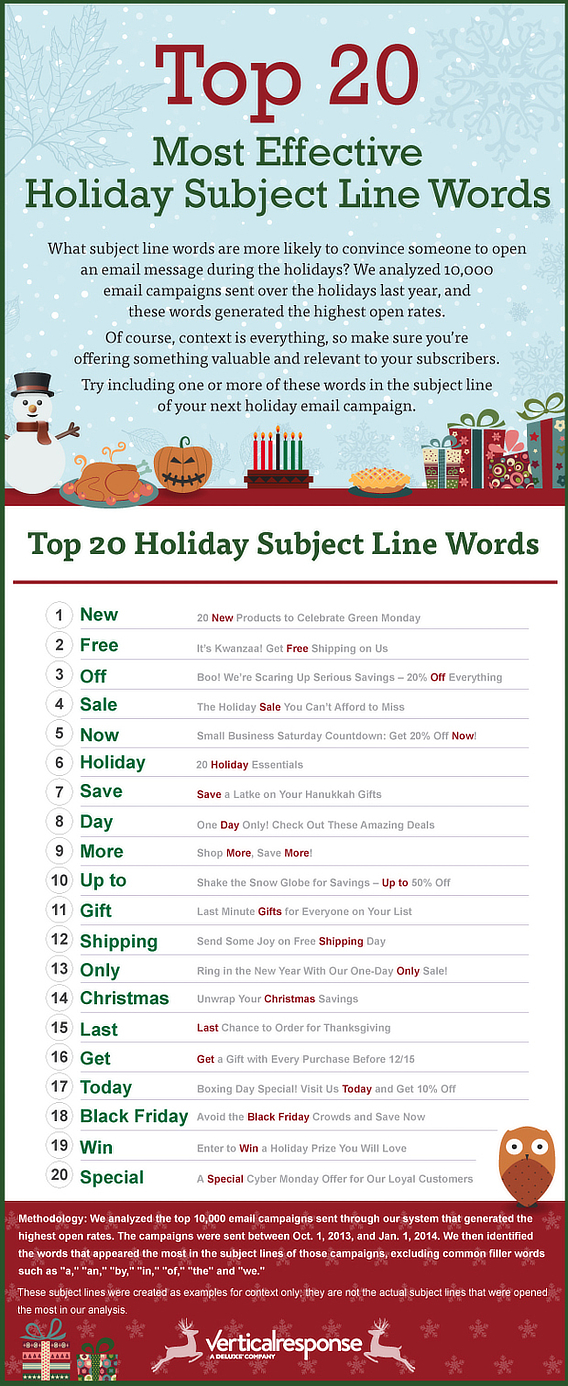 It shouldn't come as a surprise that nearly all of those words indicate a special offer or deal. Customers expect discounts during the holidays, even those who aren't persuaded by deals during the rest of the year.
Tailor your lifecycle campaigns to the festivities
Automated lifecycle email campaigns are emails sent based on behavioral or data triggers to customers throughout different phases on their relationship with your brand. You might send a post-purchase thank you after they order or a replenishment campaign when they're running low on a product.
These campaigns can be customized for the holiday season for an extra punch.
For example, let's say that for customers who haven't purchased in awhile, you create a win-back campaign that includes a coupon designed to entice them back to your store. During the holiday, you might swap out the coupon for a holiday-themed deal. Or, maybe your post-purchase thank you email tells customers about other popular products in your shop; during the holidays, you might exchange that content for your holiday gift guide.
Make sure to pause your existing campaigns and create new ones specifically for the holiday season, so you can easily switch back after the season.
Cut a deal that doesn't hurt your bottom line
If you do decide to give your customers a deal, it should be impossible to ignore. But that doesn't mean it has to come at a painful discount for you. It just has to provide enough value that your customer worries about missing their chance to snag it.
Try something unique, like…
Create a new product that's exclusive to the holiday season.
Offer a bonus on gift cards to increase their face value (but only if they're redeemed in January).
Include a better warranty or return policy than you typically offer.
Package products together into bundles for easier gift giving.
Figuring out what sort of sale or coupon to offer is the easy part. Your success in maximizing sales will come down to how well you promote it through email marketing.
8 Inspiring Holiday Promotional Emails
Need some inspiration for your holiday email marketing campaigns? The eight emails below, and our thoughts on why they're great, should help get you on the right track.
1. Boloco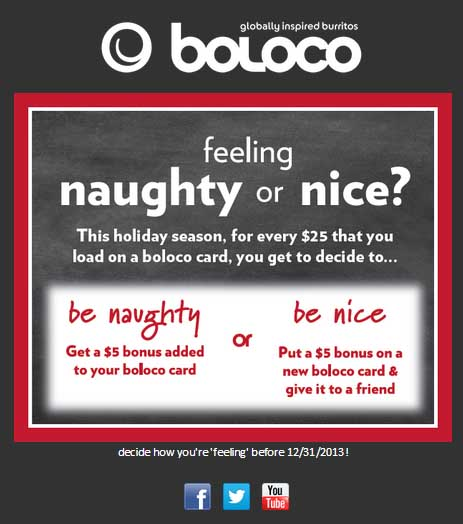 We like this email because the promotion is witty. It's on-brand with boloco, a subversive burrito company that aims to disrupt their competitors with innovative flavors and ingredients.
The ad also acknowledges that during the holidays, sometimes you just need to spend a little money on yourself. Boloco lets you choose between self-indulgence and supporting others. Their promotion highlights this in a fun and saucy way.
2. davines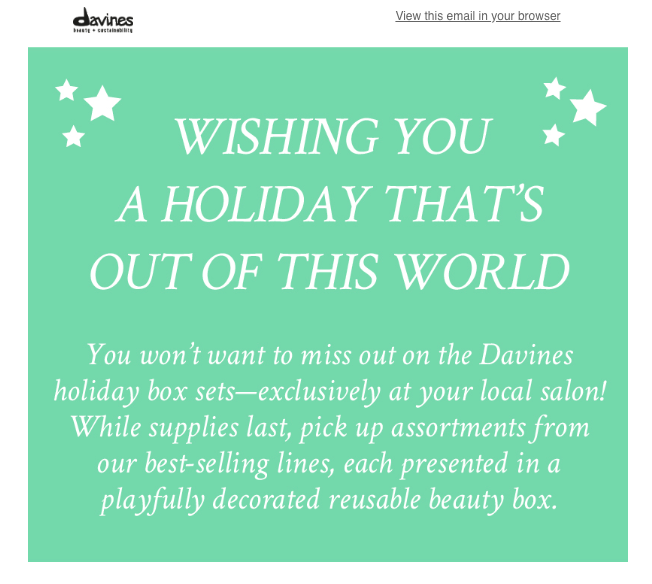 This Davine's ad definitely harnesses the season's FOMO, urging customers to pick up self-care assortments "while supplies last" — yet it still manages to remain on-brand in its more elevated, restrained way.
You can do a lot with colors and fonts in your email campaigns with cutting-edge tools like FreeFormatter.com, which allow you get into the nuts and bolts of design.
3. Sugaree's Bakery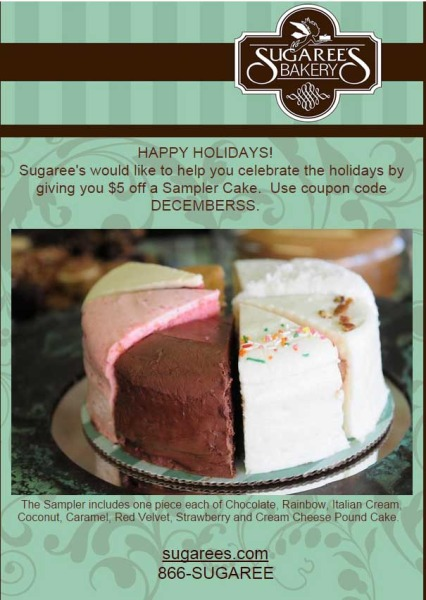 Assortment packs are great for gift-giving because they up the chances that the recipient will like at least part of the gift. They don't have to be thrilled by every item in the pack — but if they go for even one of the samples, it's still a success!
If you have assortment packages (or other exploratory products), the holidays are the perfect time to promote them in your email marketing campaigns just like Sugaree's Bakery does in the email above.
4. European Wax Center
What's great about this email from European Wax Center is that, although it's long, each section is enticing and draws the viewer's eye down the screen with the bold primary color red. A Fast Company article highlighted that red supports risk-taking, which could lead to greater clicks and conversions.
Like boloco in the first example, European Wax Center gets that the holidays are stressful — and that most shoppers might just need to buy something for themselves. With an $8.50 price tag for personal pampering, it's hard to pass up.
5. Prezo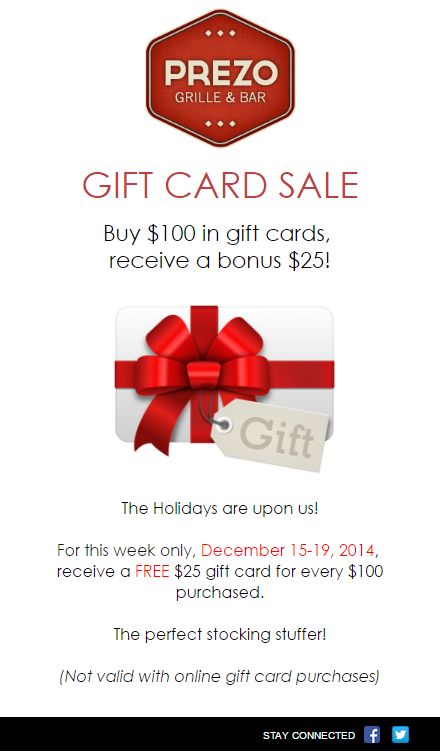 The offer in this email is both unique and compelling. It's not a coupon or flat discount, but finds a clever way to incentivize the purchase of a specific item.
Prezo also recommends how you could give the item as a gift, which might nudge people to buy (stocking stuffers can be hard to come up with, and gift cards are a perfect fit).
6. Whole Foods
Like European Wax Center's ad in the fourth example, Whole Foods is able to keep their readers interested during a longer form email. They do this by incorporating images of tantalizing holiday dishes and cute plating tricks; different color and size fonts; and CTAs ("Order Now," "Get Tips," "Use it Now") throughout the email to keep it interesting.
You should note these tactics for all emails; however, during the holidays in particular, it's easy for readers' eyes to glaze over if you don't make an extra effort to engage them.
7. Birchbox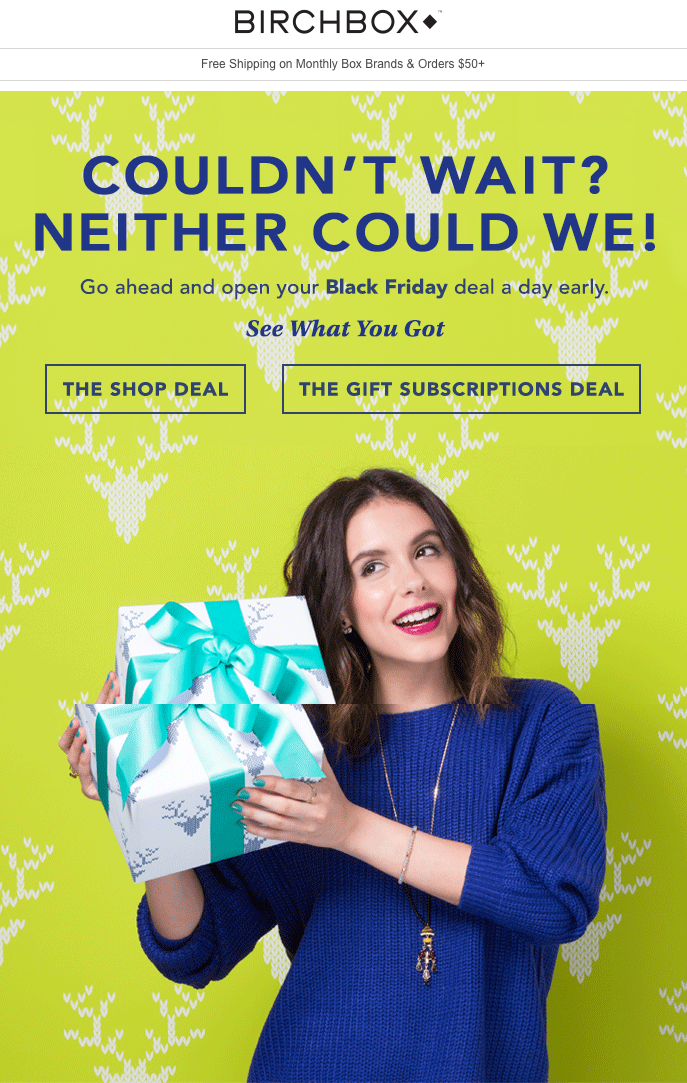 By offering a Black Friday deal before Black Friday, Birchbox is stepping outside the box. That might get them ahead of the rush and allow them to capture their share of holiday budgets before their competitors.
Also, it uses a non-traditional (for the holidays) color palette that is bold and eye-catching.
8. marimekko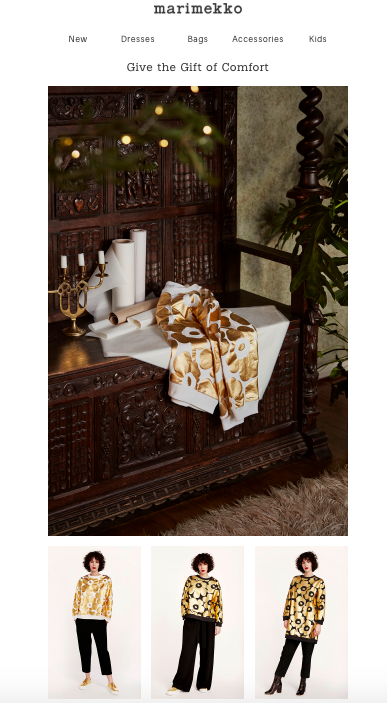 Marimekko makes it incredibly easy to engage with their 2018 holiday email by making it appear just like the web browser version. Instead of CTAs throughout the email, they're in tab form at the top — "New, Dresses, Bags, Accessories, Kids." At a time of information overload, Marimekko keeps the text to a minimum and instead relies on a few stylish images that evoke comfort and relaxation.
Check out these free photo editing apps to help polish your visuals.
Wrapping Up: Final 2018 Holiday Email Marketing Campaign Best Practices
Not satisfied? Here are even more tips to make your 2018 campaigns effective.
Optimize your emails for mobile. According to Movable Ink, 76 percent of Black Friday emails and 63 percent of Cyber Monday emails are opened on a mobile device.
Use email to support your other campaigns. You could, for instance, promote your holiday Facebook contest or Black Friday marketing videos.
Test your emails with multiple clients, on multiple devices, and at multiple sizes before sending out your list to make sure they render properly.
Make sure to put reminders on each campaign and any replies to keep track and follow up with prospects and leads.
Start your 2018 holiday email marketing early. If you haven't thought about your plans until now, you're already behind. Get up to speed with these creative, actionable tips.