The 4 Best Organization Tips for Entrepreneurs
If you often struggle to find important documents, your keys, or even your favorite pen, you may benefit from learning how to organize your space and life more efficiently.
Was your New Year's resolution to be a more organized business owner who sets a positive example for your employees? If so, keep reading this article to find some helpful tips that will help you create an organization system that works for you.
Before you can commit to becoming more organized, you'll want to know why organization is so important and how it can help you be more successful. Not only can organization help you be more productive, but it can also reduce your stress level and keep you focused. Now that you know why organization matters, you'll want to start getting organized.
1. Clean Your Desk
You probably spend so much time at your desk that you don't often consider the things on top of it and in the drawers. But if you're honest with yourself, how many of those things are necessary for your day-to-day operations?
How many things could you clear from your desk? For example, do you really need that crystal paperweight and all those pens?
Consider replacing the items with a desk organizer, or clear the surface completely for less clutter. Minimalism can have a huge effect on your psyche, creating fewer distractions and less stress and streamlining your workspace to help get you in the right state of mind.
2. Get a Planner or To-Do List That Works for You
Not enough people spend time thinking about the organization style that really works for them.
Often, they'll simply use the monthly desk calendar or a sketch pad because those are the things they have on hand. But do those tools actually help you plan your day? Do you find yourself adding many supplemental Post-it reminders and other written notes to your workspace just so you can stay on track?
It may be time to look for a new planning system that works better for your thought processes so you can consolidate all your notes and keep them in one place.
And remember: not all planners or to-do lists have to made of paper. A digital bullet journal can get you and your entire team on the same page, connecting long-term goals with short-term actions. If you're working remotely — or you have a remote team — there's a lot of software, such as Trello and Zapier, that can function as shared planners and to-do lists for an entire organization.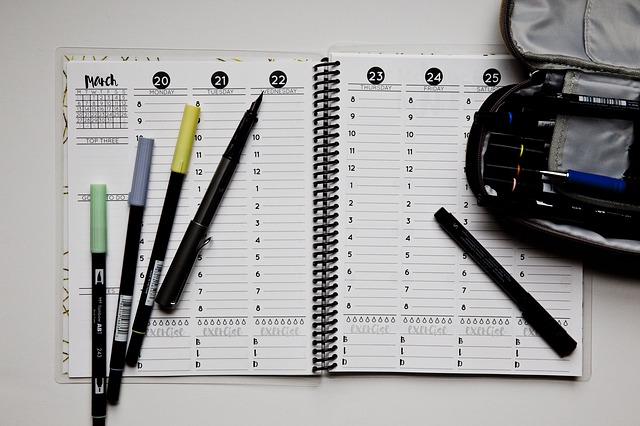 3. Delegate, Delegate, Delegate
While its a common bit of managerial and entrepreneurial advice you've no doubt heard before, the importance of delegation really can't be overstated. And while delegation is great for helping employees and coworkers develop their skills, it can markedly improve organization as well.
What's one of the most common causes of a cluttered desk (or a cluttered calendar)? Usually, it means you have too much on your plate. You're trying to cover every problem and fix every gap.
Staying ahead of the clutter requires a "shift from doing to leading." Put ons person in charge of sending out emails to leads, another in charge of dealing with vendors, and another in charge of scheduling meetings. Although a natural desire and an aptitude for diving into every aspect of the business is what makes you such a successful entrepreneur, sometimes it's wise to ask for help.
If you have the luxury of employees you can trust — and you should — you can shift responsibilities over to them. You'll need fewer organizational tools if you have less on your plate. Then, you won't need so many daily planners and apps and filing systems.
4. Develop a Filing System
More businesses these days are moving toward paperless documentation, but you'll still need to keep some paper files. Do you have a system in place for organizing these files?
If you often find yourself looking for old receipts, invoices, or other paperwork, then you'll need to devise a logical way to store them. If you struggle with organizing files, you could consider hiring a professional or asking a colleague who enjoys organizing. Either way, you need to get those loose papers under control.
And if you are embracing paperless filing in a paper world, try scanning those documents into a shared cloud or note-taking service like Dropbox or Evernote.
Once you take the time to organize your space and life, you won't believe how you were able to function without organization before. Bad habits can be beaten, and effective tools for organization can be adopted and even enjoyed. Make a commitment to adding some structure to your professional life, and then pay attention to how much better you feel.