How to Use Social Media to Write the Perfect Sales Pitch
66% marketers say that social media is essential to their marketing strategy, says HubSpot.
Yet a lot of businesses fail to get maximum output from social media and also we don't see many sales teams having meetings with social media teams to brainstorm ideas.
Social media is not only about posting updates and serving irate customers, it is about "getting social." So what do you mean by getting social and what has that got to do with writing the perfect pitch?
Let's compare a real life scenario to understand 'getting social. You attend a charity dinner, you meet new people, introduce yourselves to each other, possibly even exchange cards and decide to get in touch in future. In a very short span of time, you learn a few things about that person – what the person does, where their interests lie, where they work and if you are lucky, their contact information.
All these things are served to you on social media and you don't even have to attend charity dinners! Yet you don't utilize it, do you? This is why I said earlier you are not making full use of social media. In this article, we will learn about various ways you can use social media to understand customers' needs, behavior and intent and write the perfect pitch.
Personalize Your Pitch
Social media can give you some really meaningful insights into a person's passions, likes and interests. They allow you to recognize that one thing that drives a person. If you want to pitch for B2B products and services, the best way is to check out their Twitter and LinkedIn profiles. You will find a storehouse of information here.
For instance, when my colleague Dipti Parmar was pitching to experts and influencers for her ultimate guide on content marketing for SaaS, she looked at bios on Twitter and LinkedIn. From how they preferred to phrase their professional titles (integration champion, IT pro evangelist, marketing czar) through to their biggest pain points, you can find a lot of interesting tidbits on these two platforms.
In the following example, our team found that Karen Guglielmo considers herself an able manager by making sense of chaos at work and home front. She prided herself on her management skills. This was the key insight we were aiming to get and within minutes a highly personalized pitch was ready!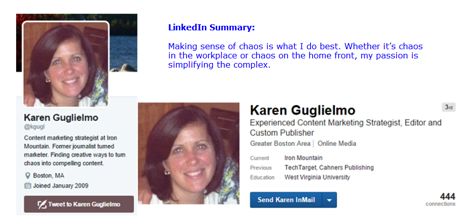 (LinkedIn)
Dear Karen,

You look like someone who appreciates the value of time and management and that is why we want to share this insightful guide on Content Marketing for SaaS with you, which will add immense value to your content creation and marketing efforts.

It has real business cases, actionable tips and statistics, so you know it's not the usual content mumbo-jumbo rehash. Also the guide includes insights from content marketing experts like Gregory Ciotti, Lead Content Strategy, Help Scout; Kevan Lee, Content Crafter, Buffer and Jimmy Daly, Marketing Head, Getvero.

(…)
It can take anywhere from 10-20 minutes to find valuable insights about a person and write a personalized pitch, but the open and conversation rates can be well worth the time.
Tips to Set the Tone
Your social media posts let you find out what kind of tone works for your website. Now look at MailChimp's two recent tweets below. The one on the left, an advanced guide, got them 50+ retweets and 250+ likes whereas a funny GIF image got them only 5 retweets.
While it is all well and good to post GIFs, memes and funny messages on social media, this difference gives you a clear indication about the tone you might want to use when writing a pitch.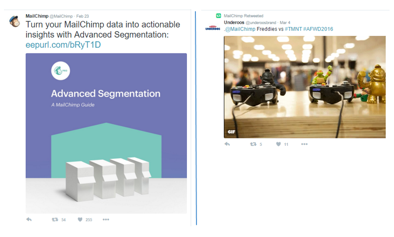 (Twitter)
However, this is MailChimp's audience. If your whitepapers and guides are shared less and people find your other casual or funny posts more shareworthy, you might want to keep a casual tone while writing your pitch.
You also need to key in the average age of your social media followers to understand what kind of tone would work best for them. If you are not sure about your brand's tone, here is a well-researched, in-depth guide on getting your tone right.
Conversations about Competitors
Another way to tune into your customers' (all competitor customers are our potential customers) needs is to tune into your competitor's social conversations and reviews. Look at the visitor's comment and reviews on Facebook and other social media and listing sites to understand the pain points of the customers and make sure you highlight that in your pitch.
Tuning into social media conversations about your competitors can give you a good idea about which features people like or dislike the most, what are their expectations about the product and how you can meet them and most importantly, a rare opportunity to find prospective customers who are disgruntled about your competitor's service.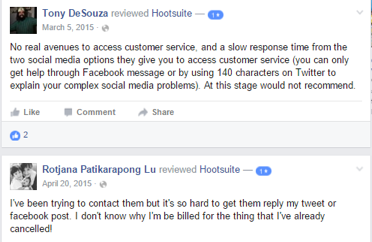 (Facebook)
For instance, looking at these reviews I would be sure to mention a line or two about awesome customer service and transparent billing in my pitch.
Don't have time to go through your competitors' social media accounts daily? Of course you don't! But that doesn't mean you still can't tune into their conversations.
Here's a roundup of some really good social listening tools, where you will find solid information about popular social listening and outreaching tools like BuzzSumo, BuzzStream, Topsy, etc. These tools are designed to help social media marketing consultants to tap into a wealth of information online whether they come from their own social media sites, competitors social accounts, influencers or bloggers.
Parting Thoughts
Social media is no rocket science. But if you look how little value it brings to businesses, you realize that it is not that simple either.
The most important lesson here is that sales people should work hand in hand with social media teams and stay regularly updated about all the latest happenings to ensure they have a relevant pitch that resonates with their audience. Thanks to all these social listening and outreaching tools, it has made life for social media marketing companies and in-house social media teams a little easier. These tools are great for medium and enterprise level companies who want to leverage knowledge from their social media channels.
Latest posts by David Candelas (see all)