6 Follow Up Tools for Microsoft Outlook in 2019
At FollowUp, we're proud of the product we've built. It transforms sales teams' inboxes into a powerful deal-closing tool with features like Send Later, Reminders and Open Tracking.
One question we're often asked is "Can I use FollowUp.cc with Outlook?" The answer is two-pronged: yes, you can use email reminders via BCC with Outlook along with any other email platform – Apple Mail, Hotmail, Yahoo, and more. However, if you want access to all features like Send Later, Open Tracking and the Salesforce integration, our Gmail Chrome extension is where you'll find them.
If you're an Outlook user and are looking for a follow-up tool to fit your needs, we recommend that you check out these alternatives to FollowUp below: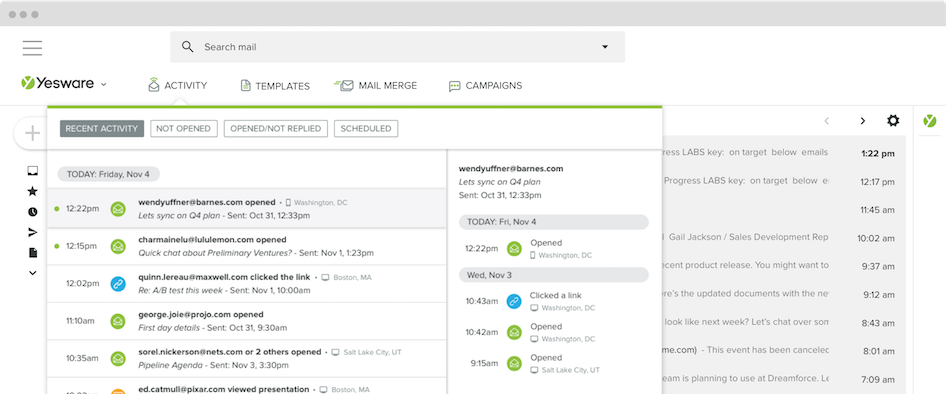 [Image:
Yesware
]
Yesware is a data- and feature-packed tool for sales teams. With Yesware, sales professionals can track email open and reply rates, and link clicks, attachment opens and presentation pageviews. Other notable features include the ability to place a call from your inbox, take notes, and save it all to Salesforce, plus a powerful mail merge tool to set up targeted drip campaigns.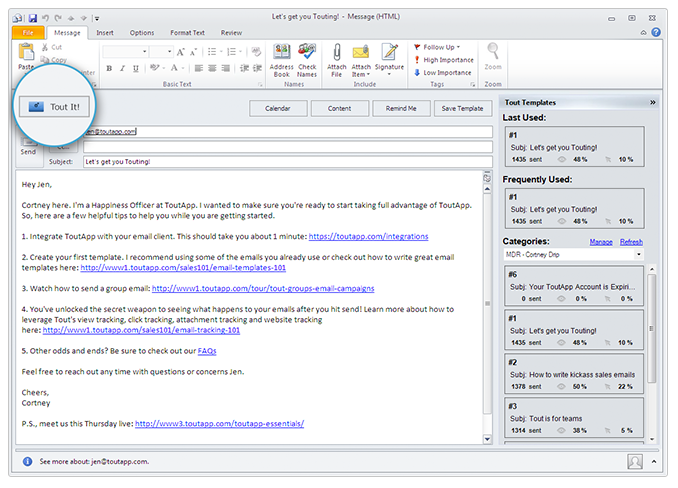 [Image:
ToutApp
]
Another powerful Outlook tool to help sales professionals excel is ToutApp. ToutApp also features live email tracking data. Use templates to make your email outreach more efficient and integrate directly with your Outlook calendar for seamless sales meetings and calls. Bonus point: you can ring a virtual gong in ToutApp anytime you close a sale to celebrate your win with your team!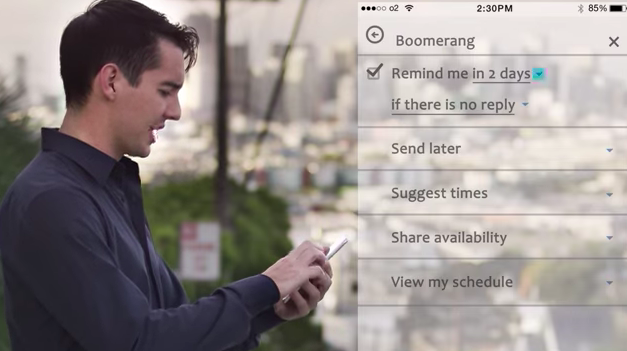 [
Image Source
]
Boomerang is best known for its Gmail extension, but it also works in Outlook. A more lightweight option than Yesware or ToutApp, Boomerang helps simplify email. Users can 'boomerang' an email to come back to at a later time. The email will appear at the top of their inbox at the specified time, saving the need for calendar reminders or to-do lists. This is a great lightweight tool for simplifying the inbox.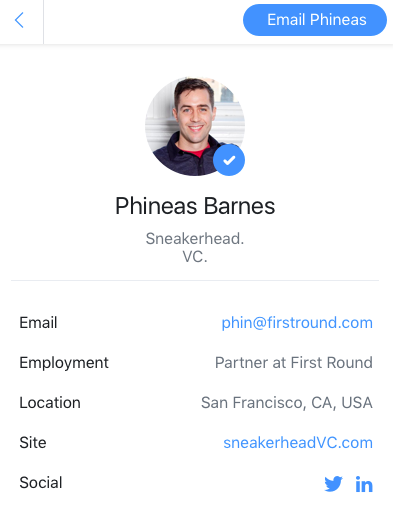 [Image Source:
Clearbit Homepage
]
Finding email addresses for your follow ups can be a pain. Was that developer you spoke with Jenny_Smith@XYZ.com or Jenny.Smith@XYZ.com? Or was it just Jsmith instead of the full name? Maybe it was .co or .io instead? Clearbit Connect can save you hours each week by helping you find your contacts' correct information in seconds. Just type in the name of their company and immediately see available contacts.
Taking things a step further: when you send a follow-up email, Clearbit Connect also allows you to quickly pull other details like your contact's exact job title, location, and even social profiles. This context will help you connect in a more meaningful way.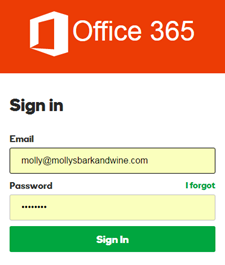 [Image Source:
GoDaddy
]
Most people think of GoDaddy as a website hosting service. But it's so much more. There's a whole suite of email tools, including Office 365 from GoDaddy. This product allows you to:
Easily save and access files on any device.
Have multiple users edit the same document prior to sending to a customer.
Automatically take advantage of all Office software updates.
Features can be lifesavers at all stages of the sales funnel.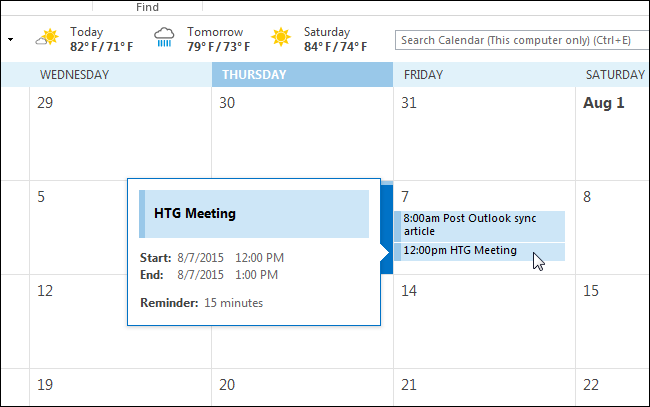 [
Image Source
]
Timing is everything. And when your life is tied to your Google calendar, it can be hard to switch to another scheduling tool. Thankfully, this open source project will help you sync your Outlook and Google calendars to make your life more efficient.
Check out this How-To Guide to get started. At the end, your Google Calendar will display in your Outlook calendar. From there, it's just one more step to create Outlook emails.
All emails — regardless of the tool you use to help generate them — should have a human touch. Make sure to give them a quick scan with your own eyes before sending or incorporate a tool like Grammarly's Writing Assistant to be sure you're as professional as possible.
In summary
There are many tools for crafting strategic follow-up emails. We're able to cover nearly all of your Gmail needs — but if you rely on Outlook, we're happy to serve as a guide.

Over To You
Are you a Gmail or Outlook user? What tools do you use to simplify your workflow? Share them in the comments below to help out your fellow sales professionals.
Latest posts by Cormac McCarthy (see all)