Here are 5 customer-centric strategies to source quality sales leads
When determining which lead generation strategies to use, there are many direct and effective tactics to choose from such as cold calling or attending trade shows.
However, now, more than ever, you have a unique opportunity to focus on lead generation strategies that are customer-centric.
Customers are now in the driver's seat when it comes to the customer experience. They both expect and demand that companies meet their wants and needs. Use this expectation to your advantage and generate sales leads through relationship-focused tactics.
Here are five sales-lead generation strategies that put the customer relationship first.
1. Solve specific problems on Quora.
2. Create videos with a built-in lead generation form.
3. Source leads from support ticket conversations.
4. Offer a helpful email course.
5. Interact with potential customers on LinkedIn Groups.
1. Solve specific problems on Quora
Did you know that Quora has over 100 million users? Based on your experience, use the platform as a way to offer expert advice to questions in your industry and engage with potential customers. You'll not only build trust and expose your business, you'll also have the opportunity to turn relationships into leads.
For example, let's say your business is a content marketing solution. Search for "using content for business" on Quora to find questions that people have on the topic.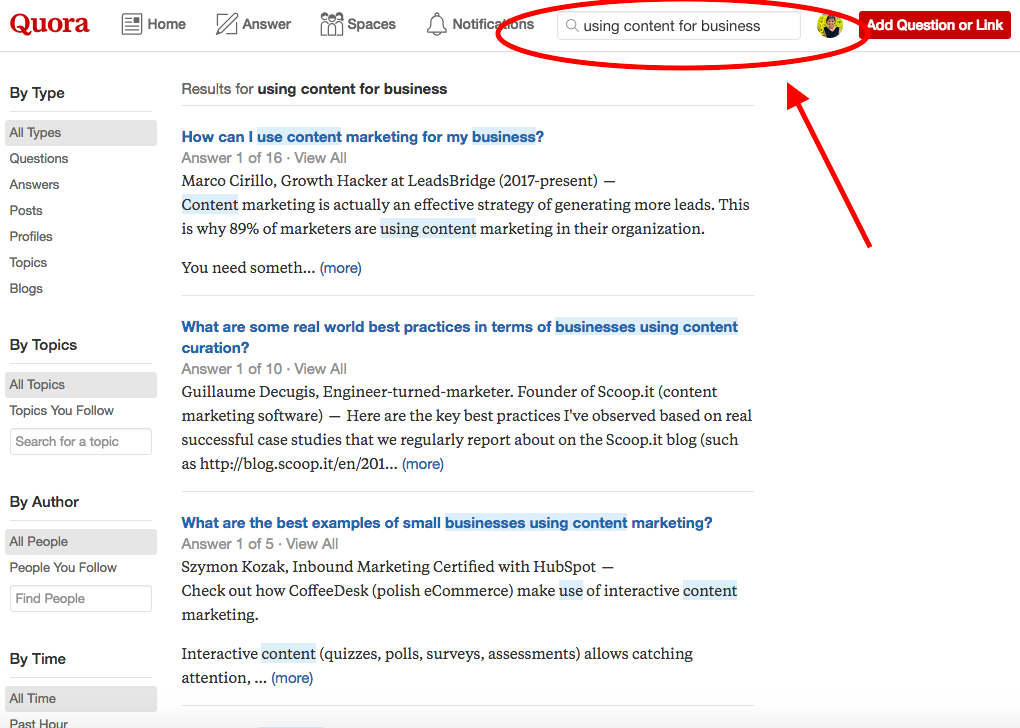 Find questions to answer that let your expertise shine. Below is an excellent Quora answer to a question about attracting subscribers to a content website: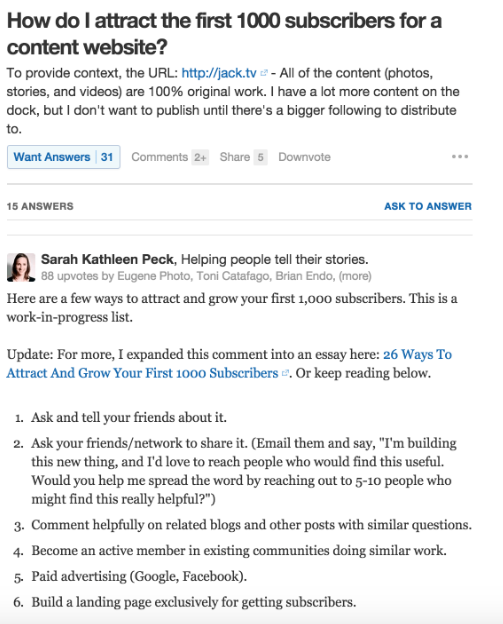 [
Source
]
Once you've written a solid answer, send the answer link to peers and colleagues and ask for upvotes. When Quora participants "upvote" or boost your answer, you gain even more exposure.
That said, it's easy to get carried away with answering questions. Create a Quora strategy first, and make sure that your profile demonstrates your experience in your industry. Highlight your credentials and experience.

As a way to source relevant topics, type a topic in the search bar and click "Follow" on the drop-down menu. Use the Quora dashboard to track analytics, so you can keep up with upvotes and interactions.
Just remember that Quora is NOT a platform to push a hard sell. Rather, it's the perfect location to interact with potential customers and offer solutions to their problems. Approach Quora with the mindset of "My goal is to create an awesome customer experience even if this lead is not yet a customer."
2. Create videos with a built-in lead generation form
Videos are an effective method for breaking down complex topics and building trust with your target market. Video can also be used to effectively source leads.
Video software company Wistia states that "across 250,000+ Wistia accounts, we found that videos with forms in them convert at 16%. That means for every 100 video plays, the video generates 16 new leads." In addition, videos that included a form within the first 20% of the video received a 43% conversion rate.
If you want to zone in on a specific target audience who would be more apt to buy your product or service, middle-of-the-funnel to bottom-of-the-funnel videos might be the best way to go. Consider creating product videos, feature tutorials, and testimonials.
Slack used this approach, creating a combination of a product AND testimonial video. The video helps the viewer understand more about what Slack has to offer and how other customers have benefited from using the product.
Whatever type of video you decide to go with, easily capture leads by including a lead generation form right within the video. A lead form asks for the viewer's contact info, which is then sent directly to you.
You can include a lead generation form at the beginning of a video. Viewers can then only watch after they fill out the form. This tactic typically works well for longer videos like webinars. Or you can insert the form somewhere in the middle, for example, right before you're about to share an important fact. This approach is most effective for middle-of-the-funnel content as viewers are likely more committed to actually finishing the video. Just make sure that whatever content you present, it's worth the viewer's contact info.
Post your video where target viewers will have the best chance to see it. For example, LinkedIn, Facebook, Twitter, and your company YouTube channel are great platforms for publishing your video.
3. Source leads from support ticket conversations
Think outside the box with lead generation. Are you looking in the wrong place for new leads?

One unique place to generate leads is through your customer support department. Customer support reps understand your customers better than anyone. Whether on the phone, sending emails, or messaging via live chat, this department knows what customers actually want.
Bridge the gap between sales and customer service and source leads that might fall between the cracks in customer support. For example, maybe a potential customer sends an email to customer support asking about one of your purchasing plans. Unsure which sales member should receive the email, the customer support rep forgets to forward the email, and a sales opportunity is lost.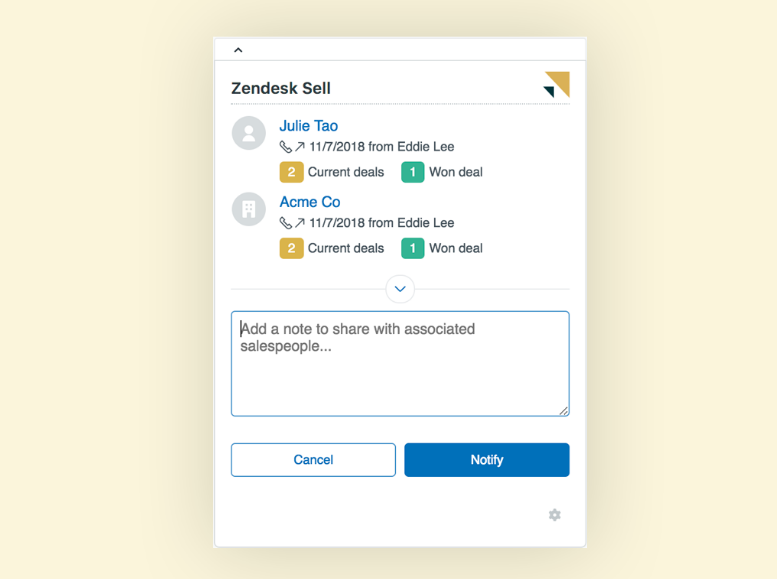 Use tools that provide a 360-degree view of all customer conversations across departments. For example, CRM tool Zendesk Sell gives customer support the ability to immediately "notify Sales" when there's a lead or sales opportunity that arises during a conversation in Zendesk Support. The tool intelligently creates the right action item for the right salesperson.
This ability is a win-win for both customer support and sales. Customer support reps understand the sales process better and can easily contact sales reps about sales opportunities. Your sales team can also directly access support tickets, so every conversation (and possible lead opportunity) is tracked.
4. Offer a helpful email course
Marketing consultant Frank Kern once said, "The best way to convince someone you can help them is actually to help them." An email course is the perfect way to apply this advice. As you offer a free educational course on a specific topic, you have the opportunity to turn readers into leads.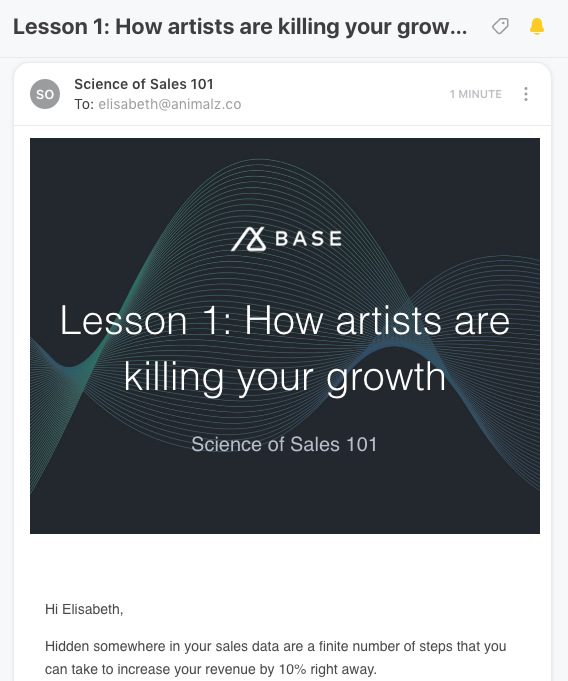 Sell's "Science of Sales 101" email course
Prove your value and expertise to potential customers within an email course. Create a group of lessons that are automatically sent to subscribers over a certain time period. Insert a call to action (CTA) at the end of your course to invite readers to try out your product or service.
But what type of content should you create for your email course? Start by highlighting the pain points of your target audience. What do they have trouble with that you could offer a solution to? Maybe your product is an SEO tool. Your ideal customer's pain point might then be uncertainty on how to approach backlinking. Do your research to identify these pain points. Forums, social media, and talking to customer support are great places to start.
Now that you understand your ideal customers' problems, create a list of solutions. How can you specifically help solve their pain points? Social media management platform Buffer identified the lack of a social media strategy as a main problem for their customers. Their course titled "25 Expert Social Media Growth Strategies" was thus born.

[
Source
]
You don't have to start from scratch with content creation. Look at popular posts on your company blog or questions you've answered on social media that could be turned into an email course. Also, think about offering your readers a related freebie such as a template or checklist.
Keep your email content sweet and to the point. An email course structure might look something like this:
Confirmation message
Welcome message
Content
Content
Content
Content
Content
Company pitch
Mailchimp or Drip are great automated email tools that you can use to send your course.
Track your email open rate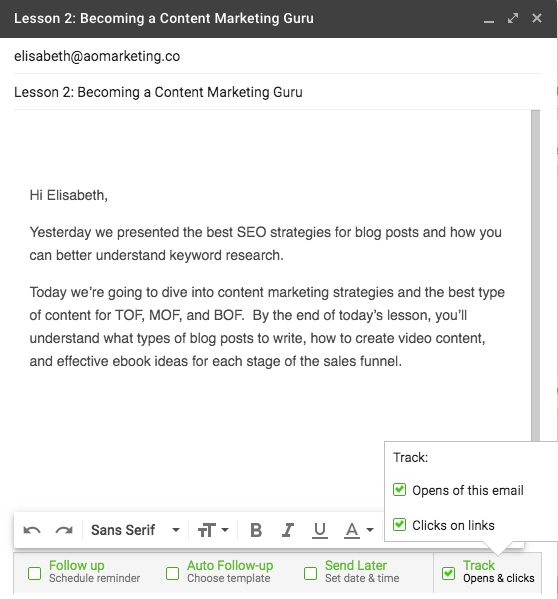 You'll also want to know if subscribers are actually reading your emails. Take advantage of tools like FollowUp that allow you to track your email open rate. The Open Tracking feature lets you check to see if emails have been successfully opened and if subscribers clicked on links within your email. This feature is much easier and more efficient than constantly checking "read" receipts.
You can take open-rate insights a step further and use them to find out what time of day is best to send emails. If you notice that the open rate of subscribers is higher at lunchtime, you can schedule to send each email course installment at 12:00 pm.
Another excellent tactic is to create a landing page specifically for your course and promote it on your website and social media platforms. Review analytics often to see what conversion rates are like at the end of the course. If the course is not converting, experiment with A/B testing to find what type of messaging works best.
5. Interact with potential customers on LinkedIn Groups
LinkedIn is a goldmine for lead generation. With a massive user base of 562 million users, the site also boasts over 1.7 million LinkedIn Groups that can be used to engage with potential customers.
You are allowed to join up to 100 groups on LinkedIn, giving you plenty of opportunities to interact with a variety of people. Groups are based on topics and industries like retail or finance. People join as members if they're interested in the topic.
It's also easy to get started with LinkedIn Groups. Type keywords related to your business in the LinkedIn search bar. For example, if you're a sales technology company, search for "sales tech." Click the drop-down menu in the upper left corner to sort results by "Groups."
[
Source
]
Also, scout around for groups that your LinkedIn connections are members of. Choose several that are related to your company, and then read the group's rules and "About Group" section to determine if you should join or not. Here are factors to consider:
Are there enough members?
Do members match my buyer personas?
Is the group aligned with my company's value proposition?
What are the motivations of the members?
If the group is a good fit, request to join. And, if you're up for group management, you can also create up to 20 groups of your own and develop communities based on topics related to your company.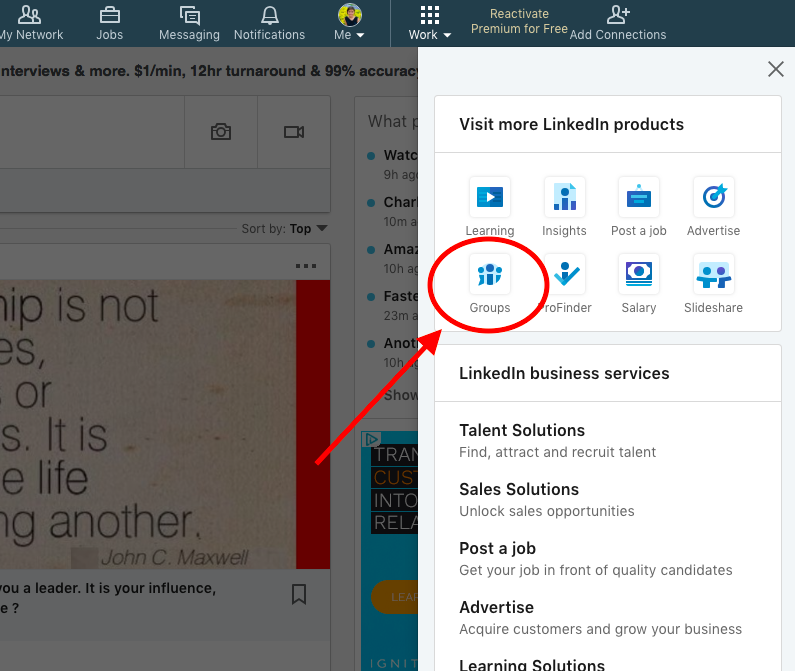 To access your groups, click the "Work" icon, then the "Groups" tab
Use your group memberships as a way to answer questions and share helpful resources with potential customers. Set reminders for yourself to engage on a daily basis and rotate between the groups you interact with.
However, just as with Quora, don't use LinkedIn as a hard-sell platform. Offer actual value to group members to build trust and relationships. Once you have developed a rapport with certain members, contact them via private message. Only bring up your product/service when you're sure the time is right.
Use a combination of sales lead generators
The best way to use these customer-centric lead generators is in combination with each other. For example, you might get a great idea for an email course based on a Quora conversation. Or you might post your lead-generation form video to a specific LinkedIn Group. How you combine these strategies ultimately rests on your audience and goals.
There are so many unique ways to generate sales leads that put the customer first. Whatever you choose to do, make sure you are adding value to the lives of your target audience to generate quality leads.
This post was originally published at the Zendesk Sell blog. It has been republished here with permission.