13 Examples of Innovative Ecommerce Referral Programs
For all the many marketing channels at our disposal, good old-fashioned word of mouth arguably remains the most effective.
To many companies, word-of-mouth recommendations are the pot of gold at the end of the rainbow. The power of a trusted recommendation from a friend or loved one is among the most convincing tools at our disposal, which is why referral marketing programs have become such a crucial differentiator in today's intensely competitive marketplace.
Whether you're a seasoned ecommerce referral pro or you are just getting started with referral marketing programs, the following 13 companies have all taken a unique approach to growing an ecommerce referral campaign. Let's take a look at each in turn to see what makes these campaigns so effective.
Advance Auto Parts
When it comes to cars, mechanics and repair specialists often consult one another to find trusted parts distributors. With this in mind, Advance Auto Parts sought to leverage the effectiveness of in-person referrals with the ease and convenience of a digital experience.

What's most remarkable about this ecommerce referral program isn't the deal on offer or the language used in the campaign itself— it's what the company learned from the program. After launching its referral campaign, Advance Auto Parts realized that 50% of the customers acquired through the referral program were completely new to Advance Auto Parts as a brand. This key insight allowed the retailer to customize and refine its messaging to appeal to these new customers—a major win for the company and its customers.
Amerisleep
Competition in the $15B American mattress industry is surprisingly intense, which is what makes Amerisleep's referral program so effective.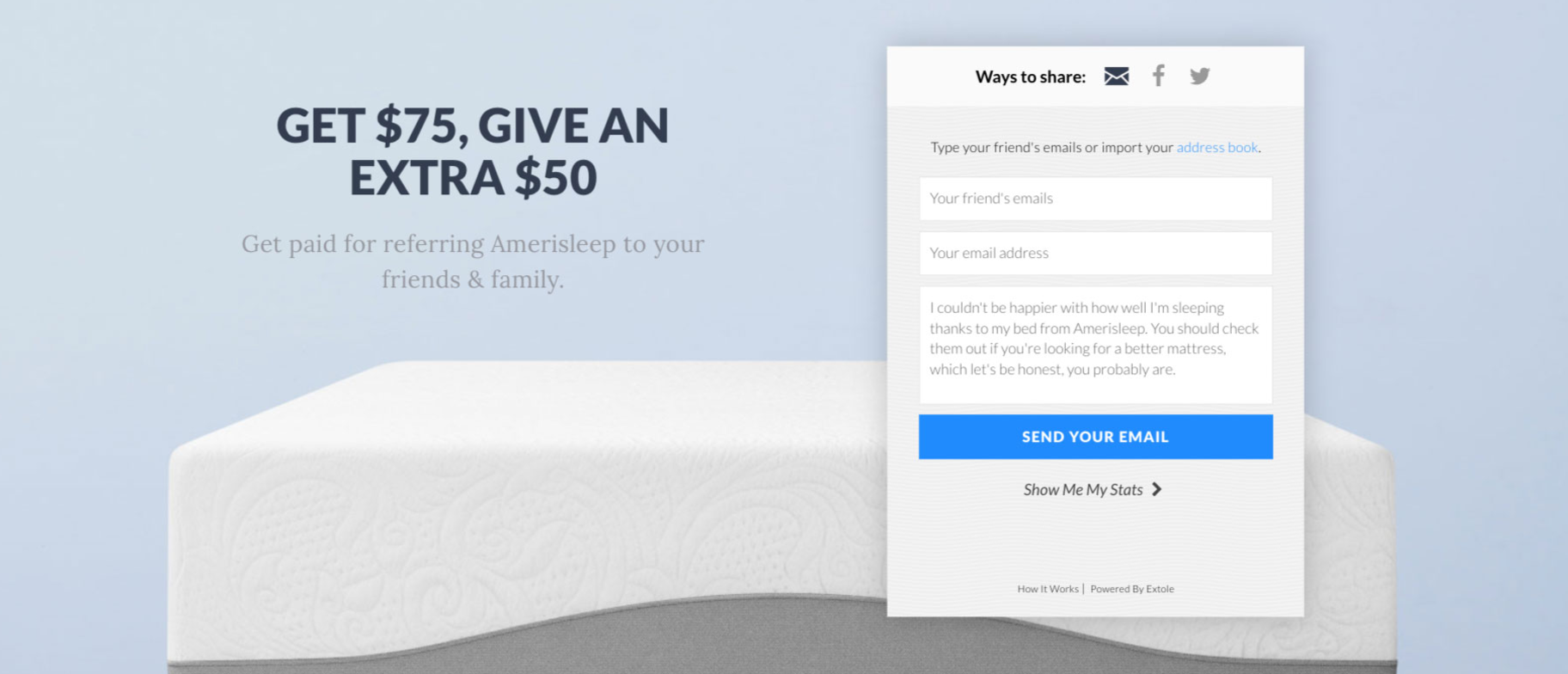 Amerisleep's referral program makes it as easy as possible for satisfied customers to share their experiences with friends and family. The referral message field is prepopulated with a warm, friendly message, which helps reduce friction by giving customers a starting point to compose their own messages.
The modest financial incentive is enough to make it worth the customers' time without cutting too deeply, and Amerisleep gives customers several ways to share their referral, including via email and social media.
Athleta
Financial incentives such as discounts can be persuasive, but they often lack the personal element that makes ecommerce referrals compelling. That's why sportswear manufacturer Athleta's referral program gets to the heart of those personal connections to create a persuasive, positive referral message.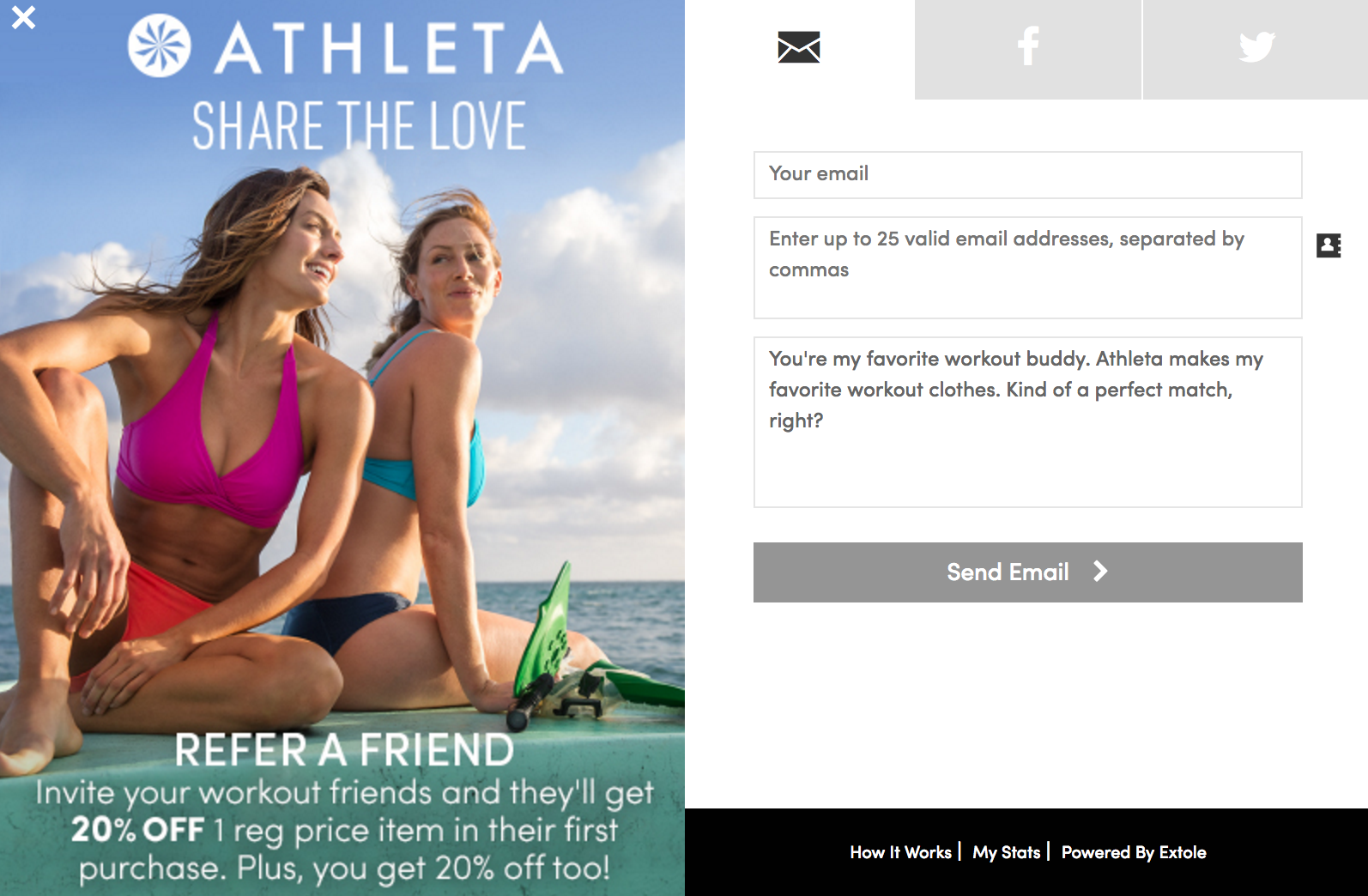 The discount itself is solid—20% is quite significant, especially on larger orders—but it's the language Athleta uses in its message that's really effective. Athleta understands that shared real-life experiences matter to its customers, which is why it pairs the financial incentive of a discount with the connective, conversational language of its referral message. It turns what is often thought of as a solo activity into a fun experience shared between friends, which is powerfully persuasive.
Backcountry
Many companies have experimented with dynamic or programmatic personalization in recent years. Almost everyone has received an obviously generic, automated emailing disguised as a genuine referral, which is why outdoor clothing brand Backcountry opted to trust its customers and give them the opportunity to craft their own referral messages to friends and family.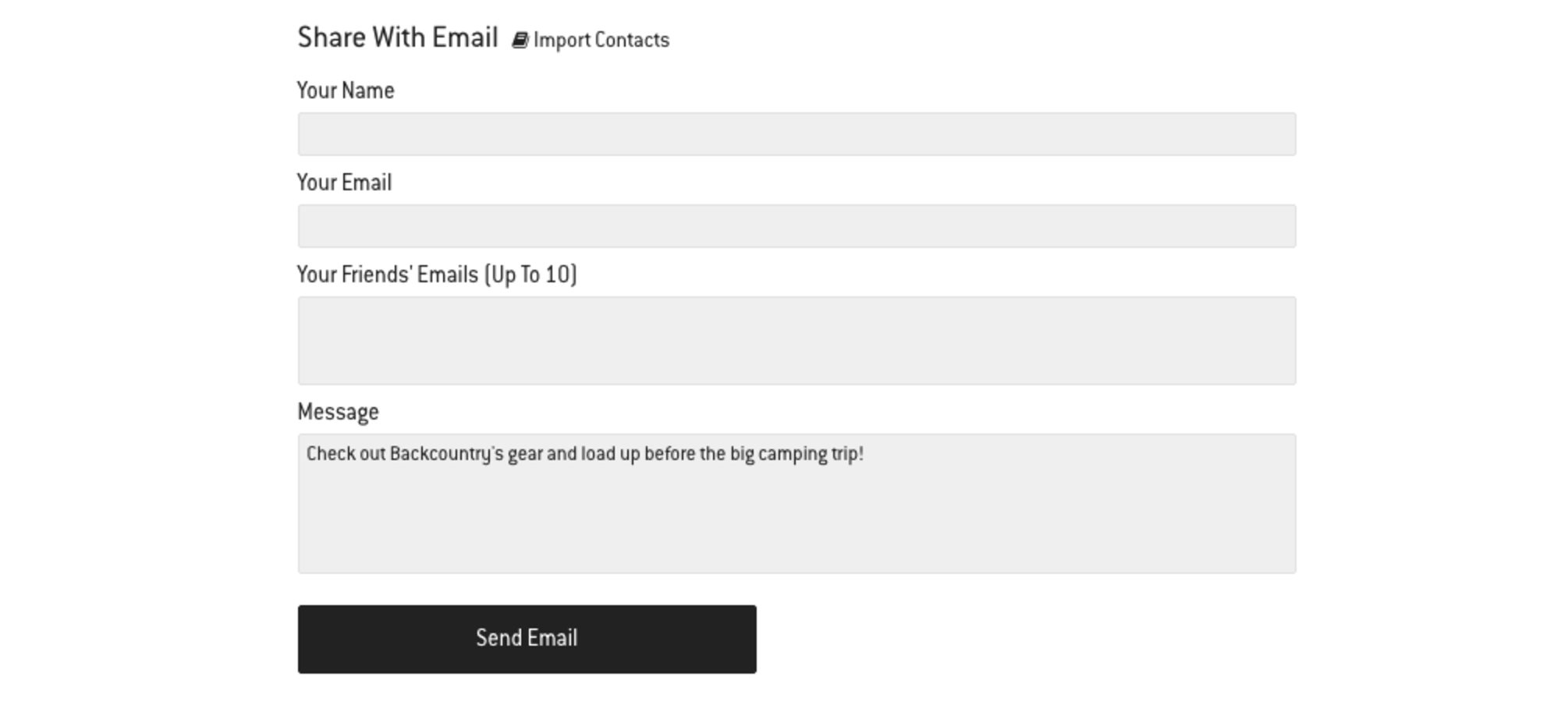 This approach might not seem particularly radical, but it's actually a pretty bold move. Backcountry understands that its customers know how best to pitch its extensive range of outdoor apparel to their friends. By giving them the freedom to write their own messages, Backcountry is trusting the quality of its products and the standards of its customer service to do the talking.
Hanna Andersson
Sometimes, focusing on the core principles of referral marketing is enough. Children's clothing brand Hanna Andersson understands this better than many companies, which is why its simple, straightforward ecommerce referral campaign was so ingeniously effective.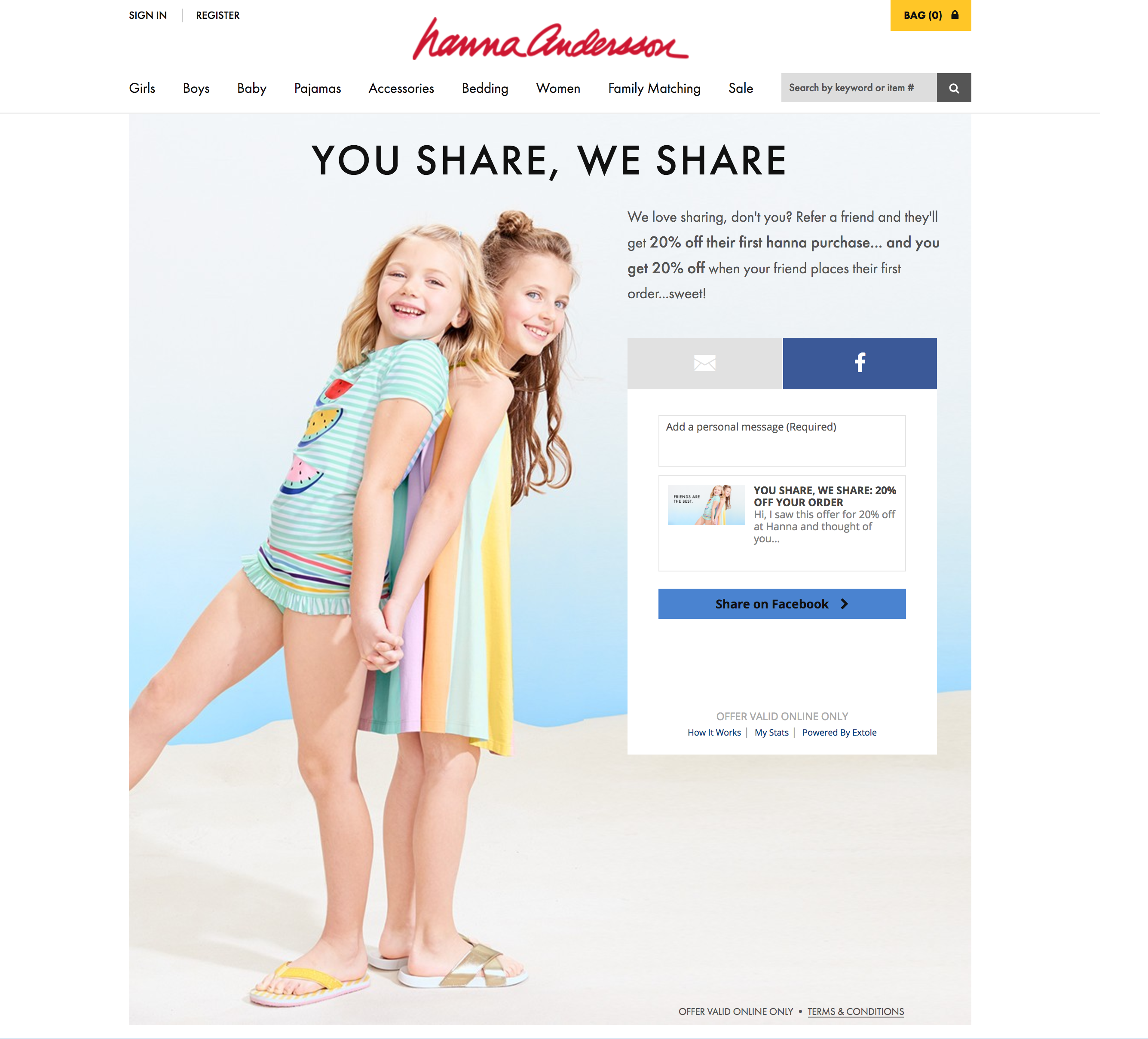 This referral campaign was powerfully effective in two ways. First, the brand placed simple but direct calls to action across multiple pages throughout its site, giving customers several opportunities during their shopping experience to share their recommendations with friends. Second—and most important — Hanna Andersson allows customers to claim referral bonuses without registering or even logging into a registered account, which reduces friction significantly.
By making the messaging clear and simple, and making it practically effortless for customers to share, Hanna Andersson achieved 25% of its annual referral acquisition goal in just two months.
Julep
The cosmetics industry is another savagely competitive market. While this is great news for consumers, it's not so great for cosmetics retailers, which have to try that much harder to persuade customers to spread the word. That's why beauty retailer Julep's cross-platform approach to ecommerce referrals is so powerful.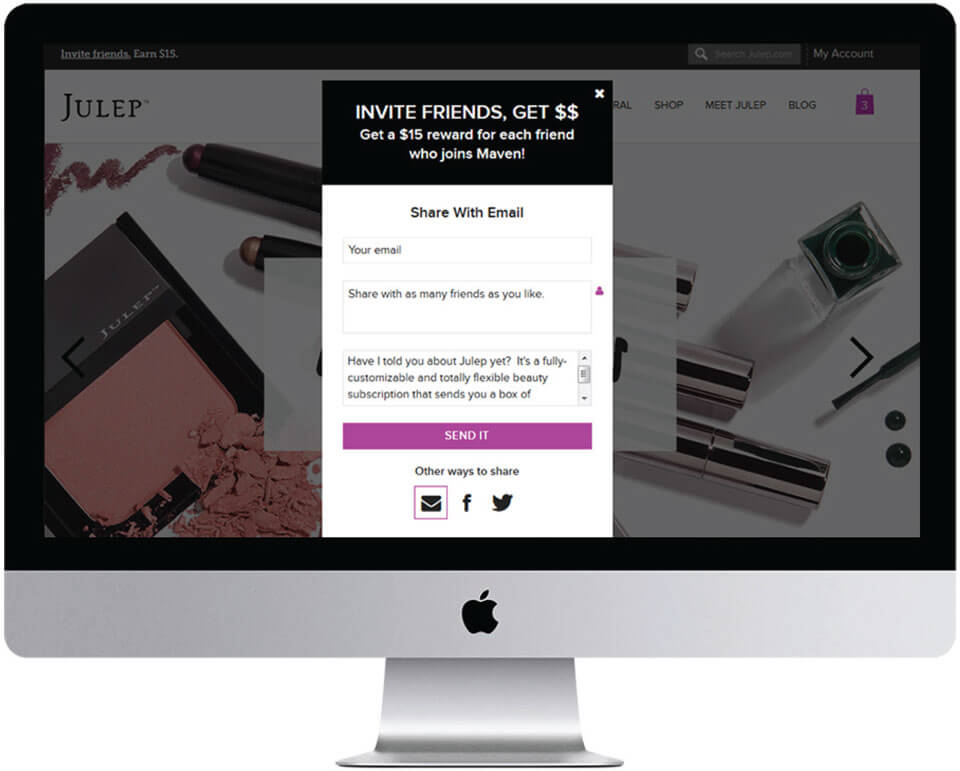 Julep knows that its most loyal, engaged evangelists are highly active across multiple social media properties. Its brand advocates, which the company calls Mavens, can refer friends and followers in several ways, including Facebook posts, tweets, and personal links via email.
Julep also cleverly offers sharing options at multiple points throughout the customer journey, increasing the likelihood that its most loyal fans will share the love with their social circles. This cross-platform approach to its referral program has boosted the volume of shares during promotional initiatives by more than five times, highlighting the importance of making it as easy as possible for customers to spread the word.
Rover
So far, we've focused primarily on ecommerce businesses that sell physical products. But referrals can be even more important for service-based companies, as is the case for dog-related services marketplace Rover.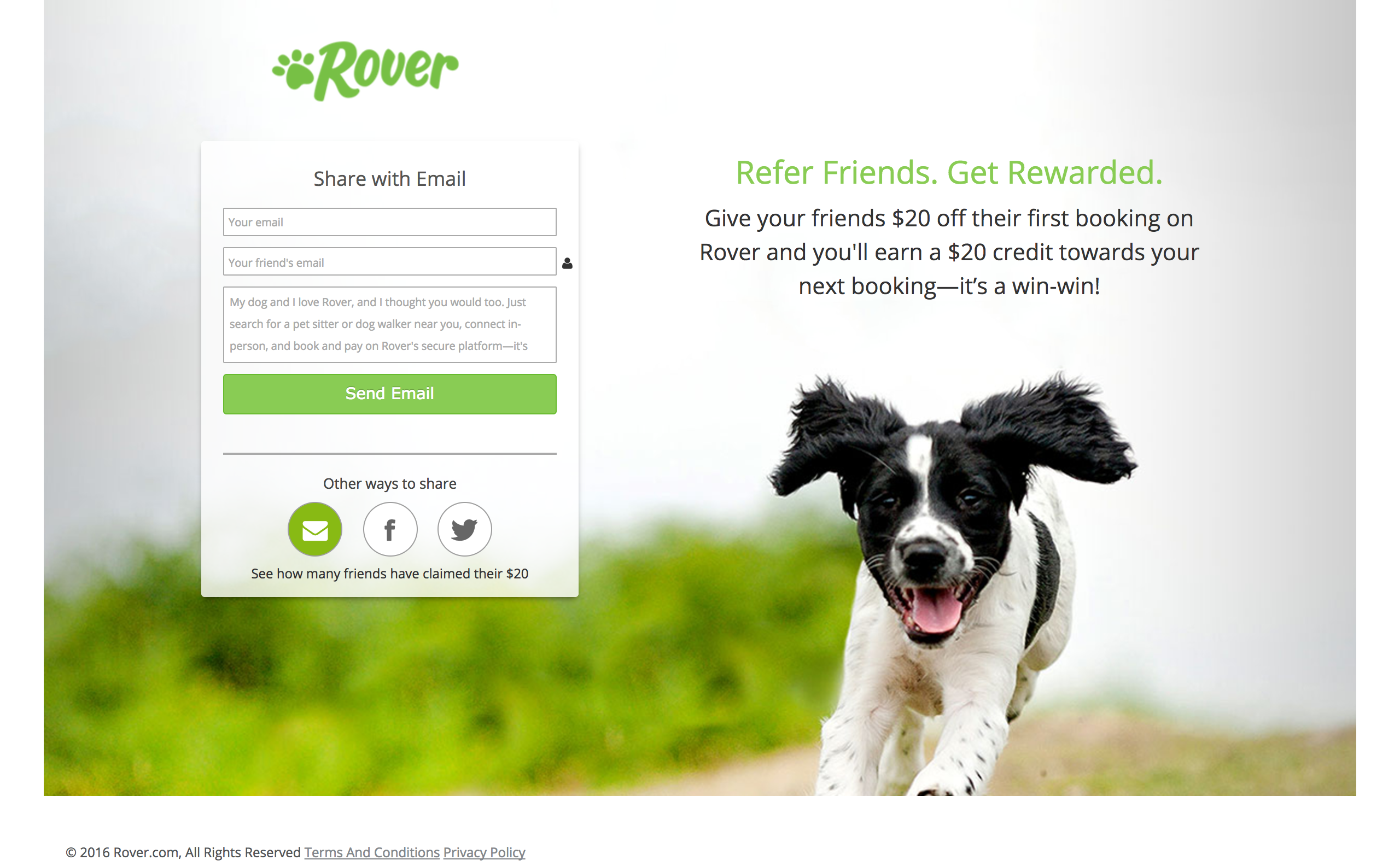 Rover understands that, due to the nature of its business, customer trust is absolutely critical to its ongoing growth. This puts a lot of pressure on Rover's referral program, but Rover makes it work. There is a modest financial incentive—a $20 discount—but Rover is confident enough in the quality of its services that it doesn't need to offer a bigger discount.
Like some of the other companies we've looked at, Rover gives customers a starting point for their referrals by prepopulating the message field, which can be enough of a nudge to entice reluctant customers into sending a referral to a friend. Overall, a great example of how important referral campaigns can be to service-based businesses.
Seamless
One strategy that's very common in online advertising, but much less common in ecommerce referral programs, is leveraging a sense of urgency as a motivational incentive. Yet that's exactly what restaurant-food-delivery company Seamless does in this referral campaign: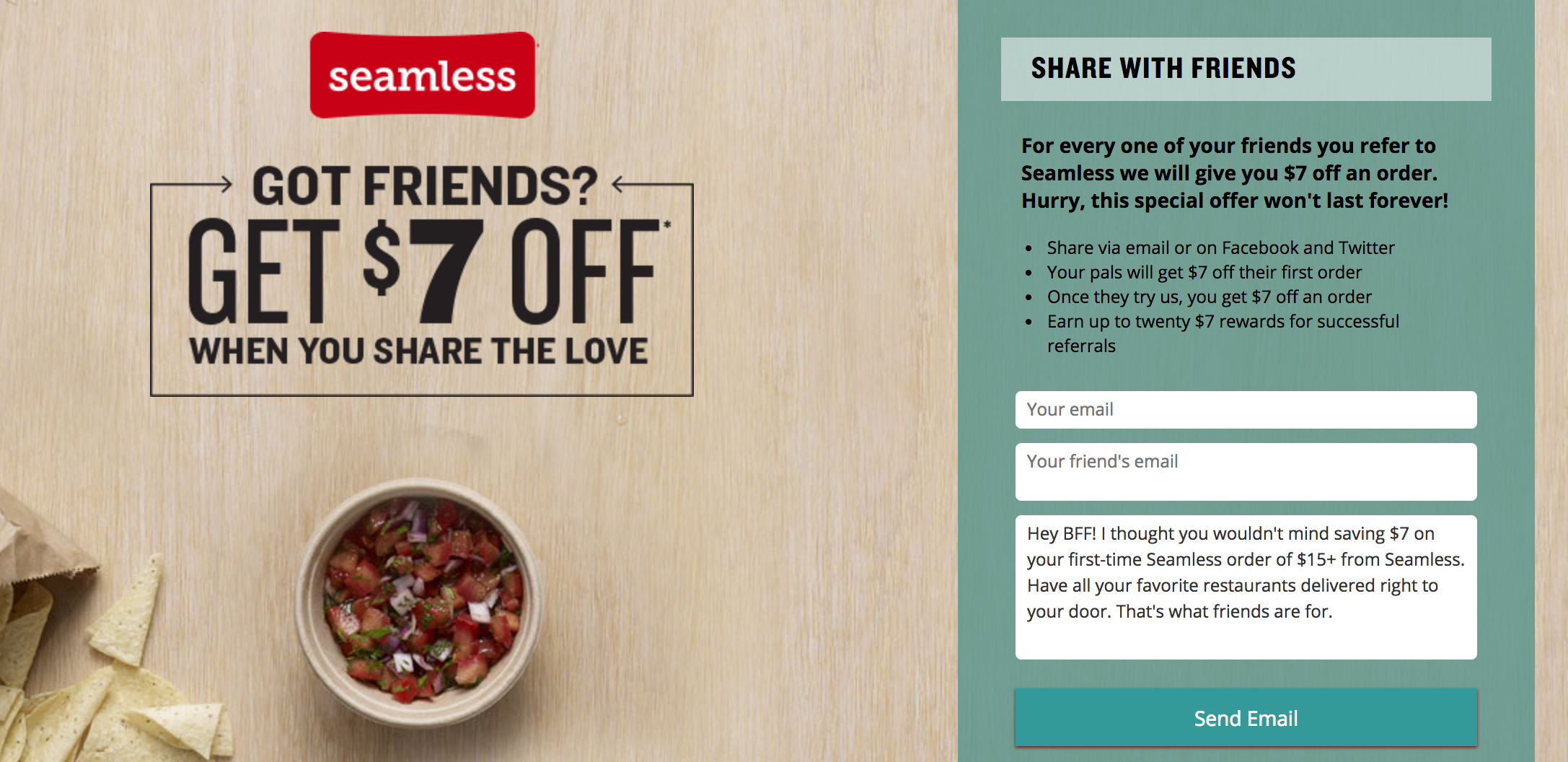 The way Seamless goes about using a sense of urgency in this campaign is very clever. Rather than risk losing potential referrals by implementing a hard deadline for its discount offer, it instead uses ambiguous language that hints at the offer's limited availability without explicitly saying so: "Hurry, this special offer won't last forever!" It's just urgent enough to be compelling, but not so pushy that it would risk alienating potential referrals.
Talbots
Another uncommon tactic in ecommerce referral campaigns is promoting the mutual benefits of some programs. Fashion retailer Talbots leverages this strategy to great effect in the campaign below: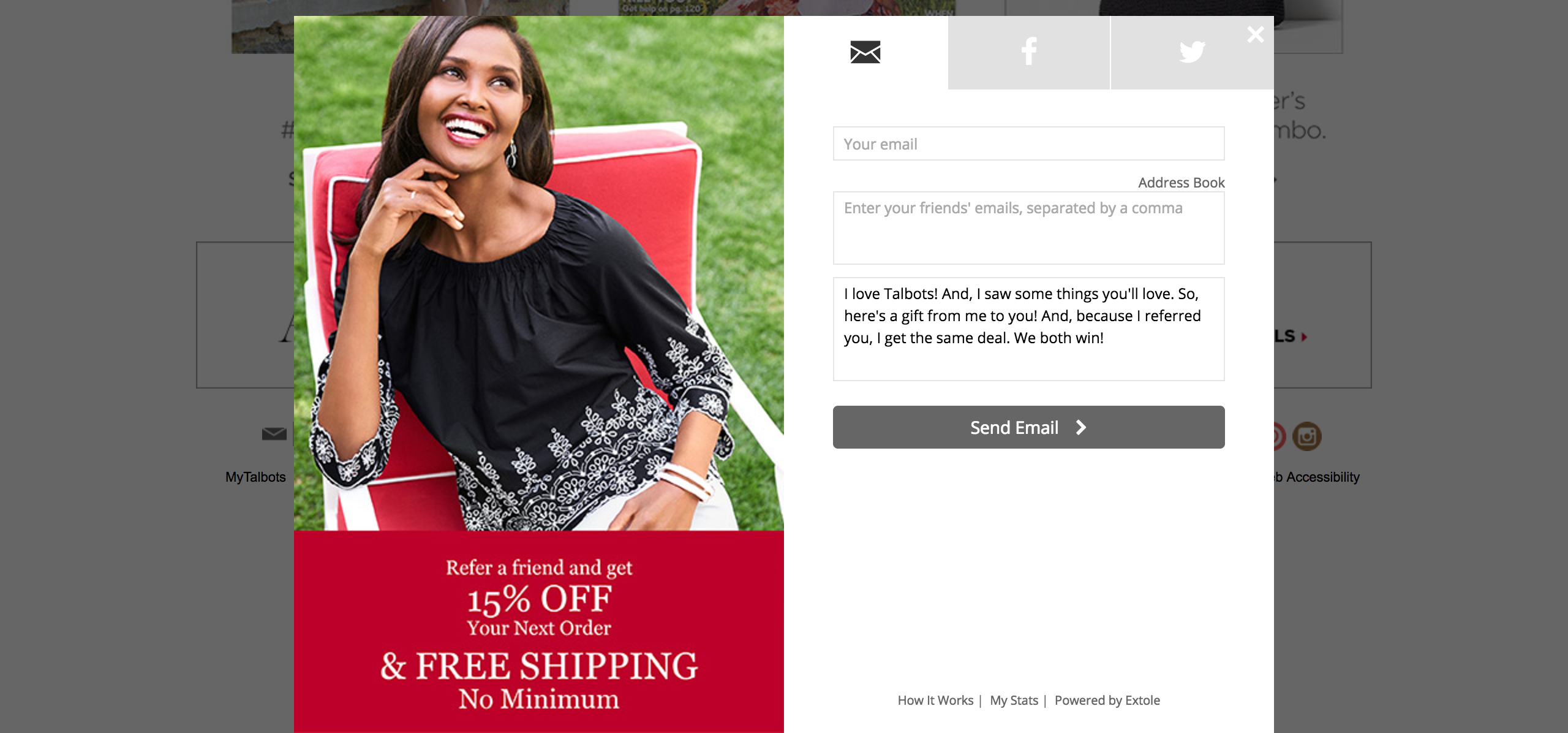 This technique is particularly clever because it emphasizes that both the referrer and the recipient will benefit from the special offer. This can be a persuasive strategy because, rather than emphasizing the benefits to the individual, as seen in other campaigns, Talbots implies that referring a friend is a win-win for everybody.
The phrasing of the prepopulated message is also quite clever. It's subtle, but the use of the phrase "I saw some things you'll love" suggests that the referrer was thinking of the recipient as they shopped—even if they weren't really. This is a great example of the impact that copy can have on the overall referral-campaign experience.
Timberland
While many of the companies we've looked at so far have focused on a quality-versus-quantity approach, iconic footwear brand Timberland takes an opposing strategy in the referral campaign below: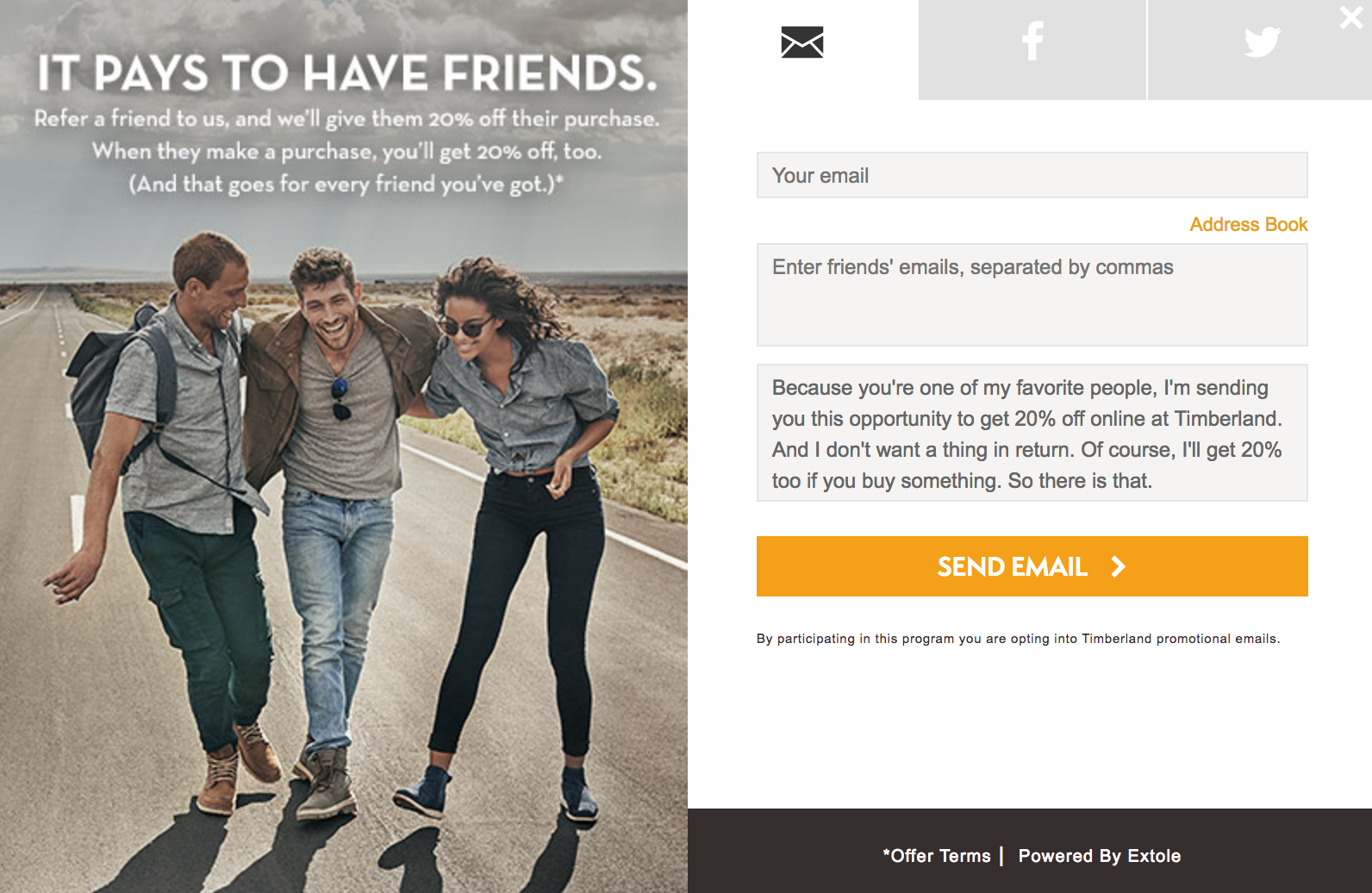 At face value, there doesn't appear to be a lot to distinguish this referral campaign from any other. But what's interesting about this campaign is that Timberland doesn't place any restrictions on how many friends and contacts customers can refer—or the number of 20% discounts they can receive as a result.
The language used in the copy ("And that goes for every friend you've got") implies that referrers can—and should—refer as many people as they can to snag a bigger discount for themselves. Clever.
Vera Bradley
Few design houses are as beloved or well known as Vera Bradley, which is renowned for its vibrant, colorful prints. Vera Bradley recognizes that its unique aesthetic is what the company is known for, which is why the brand smartly puts its bold designs front and center in this referral campaign: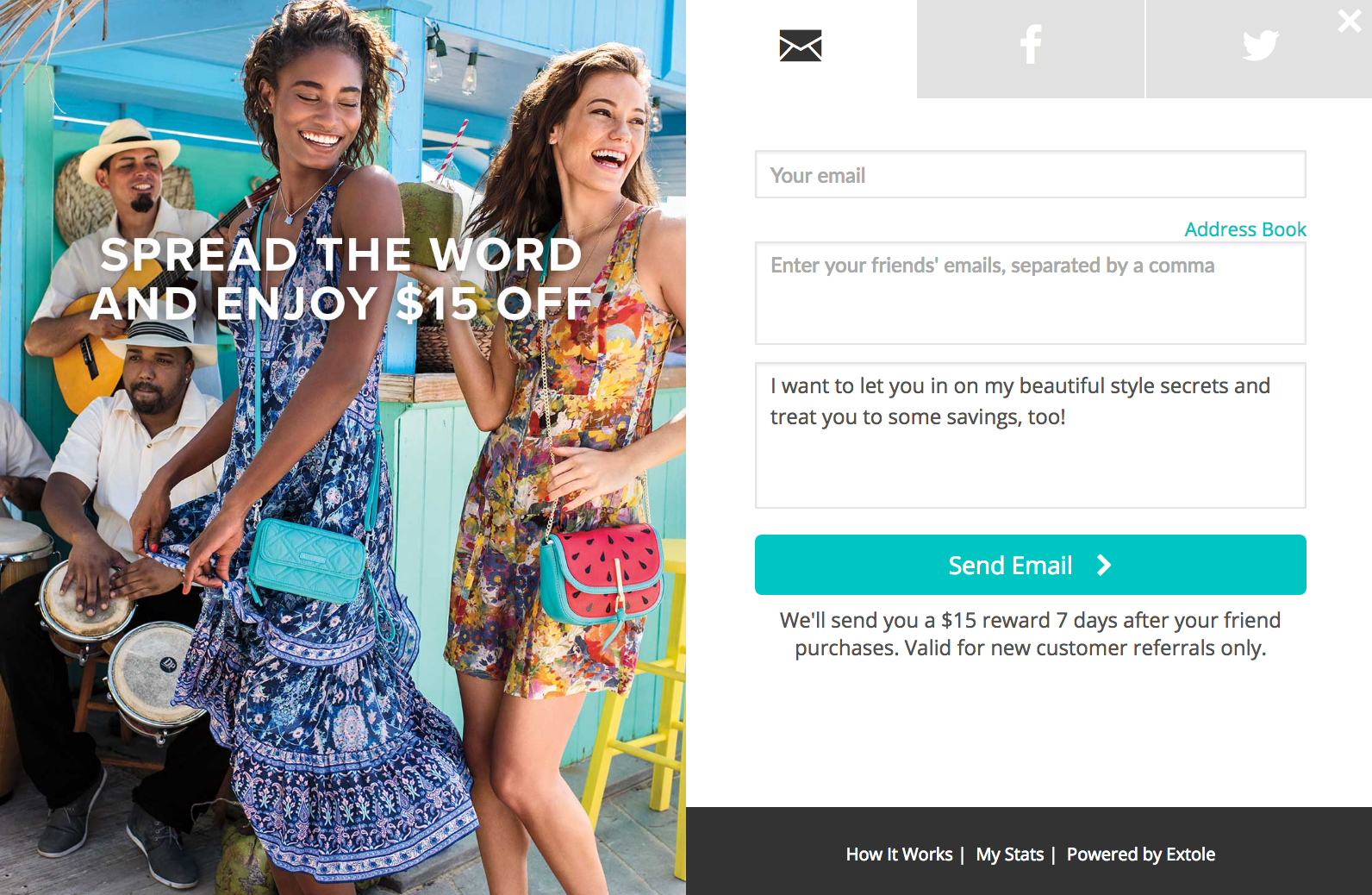 The details of this referral program are fairly standard; there's a prepopulated message field, a clear explanation of the benefits of referring a friend, and a crystal-clear call-to-action button.
But that's not what's most interesting about this campaign. The visual used in this campaign is what really matters. Not only does the featured image contain two very different yet complementary prints, but the models themselves, and their surroundings, convey a sense of fun, excitement, and adventure. This helps the recipient and the sender visualize themselves and the kind of life they could be living if they bought bags or outfits from Vera Bradley. This aspirational positioning can be highly effective and incredibly subtle, which makes this referral campaign surprisingly compelling.
It might lack the bells and whistles of some other campaigns, but why reinvent the wheel if you don't have to?
Vistaprint
For all the power of social media, few companies leverage it as part of their ecommerce referral campaigns. This is what makes printing and stationery company Vistaprint's referral campaign so effective—it goes for maximum reach rather than positioning itself as an insider deal: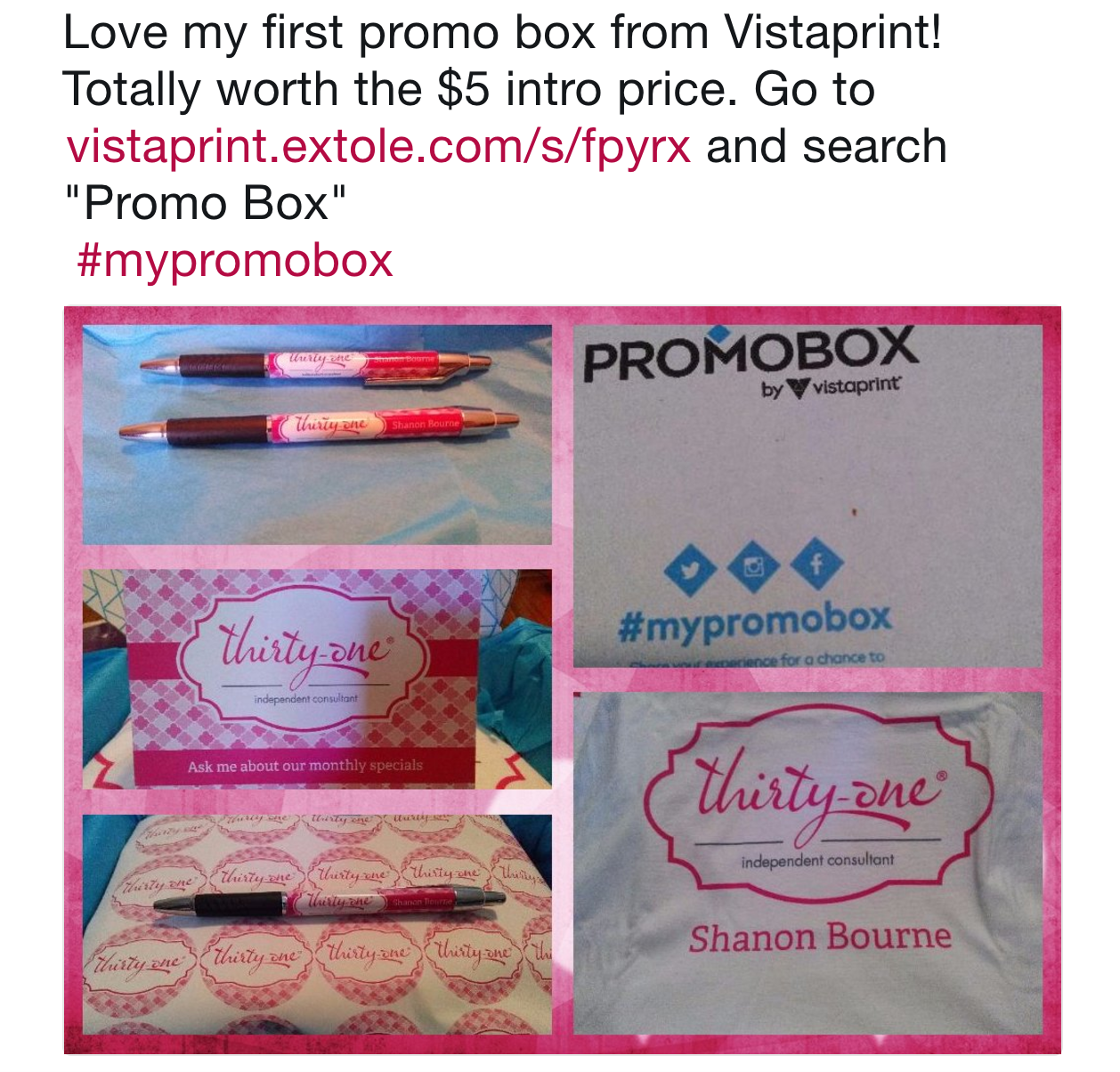 This promotion gives promo codes to anyone who purchases a Promo Box product from Vistaprint. These codes can then be redeemed by anybody—no direct referral required. This means that anybody who sees a tweet or a Facebook post about the promotion can use the discount code.
Aside from casting a much wider net, this strategy is also powerfully persuasive. The promotional tweets themselves are sent from a user's real Twitter account, which lends additional credibility without coming across as disingenuous, as some Promoted Tweets do. But if you're thinking about running this kind of referral promotion, you might want to consider launching a simultaneous campaign that emphasizes quality rather than quantity to achieve a balance between the two.
Ulta
When it comes to quality referrals, targeting your most loyal customers is a winning strategy. That's what beauty retailer Ulta did with this campaign—and the results were incredible: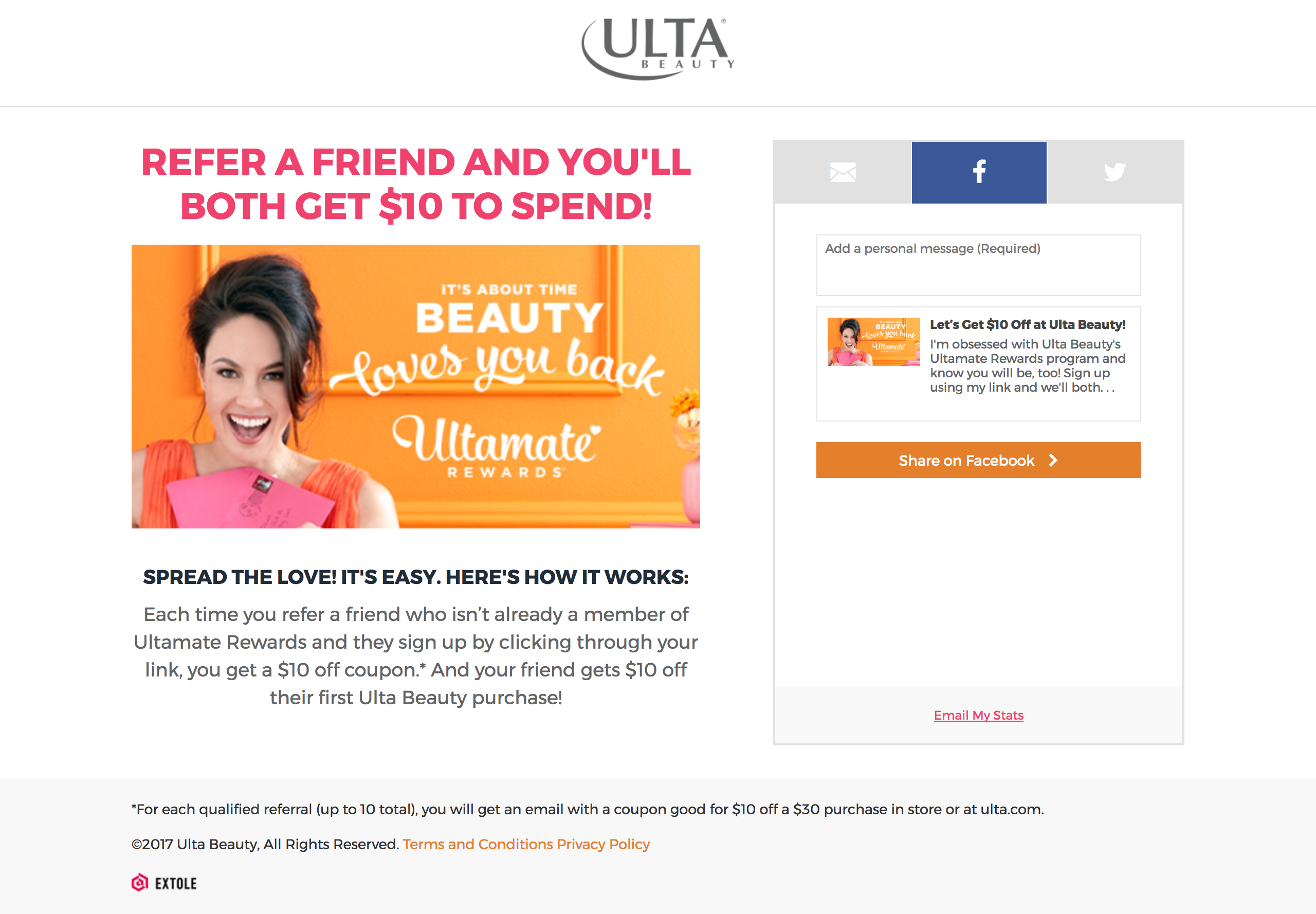 The real genius of this campaign was that, by targeting its most loyal customers, Ulta was able to tap into an existing audience of devoted, repeat customers who then evangelized to their friends and family. For every successful referral, both the sender and the recipient received a $10 discount coupon that could be applied to a $30 purchase—a not-inconsequential discount.
This campaign, which Ulta called its "Ultamate Rewards" program, was launched in 2015. Since then, 100,000 Ultamate Rewards members have referred over 27,000 new members. If that weren't impressive enough, these loyalty-program members have average order values over 50% higher than nonmembers. Amazing.
Get Creative with Your Ecommerce Referral Program
Hopefully, these examples of referral campaigns have given you plenty to think about for your own referral campaigns. Between enticing visuals, tempting discounts, the clever use of language, and a strategic approach to cross-channel promotion, you'll be overwhelmed with eager referral customers in no time.
Latest posts by David Candelas (see all)