Evernote
How to set up Evernote?
To integrate FollowUp with Evernote please go to your Settings. You will be prompted to login and authorize your account with Evernote.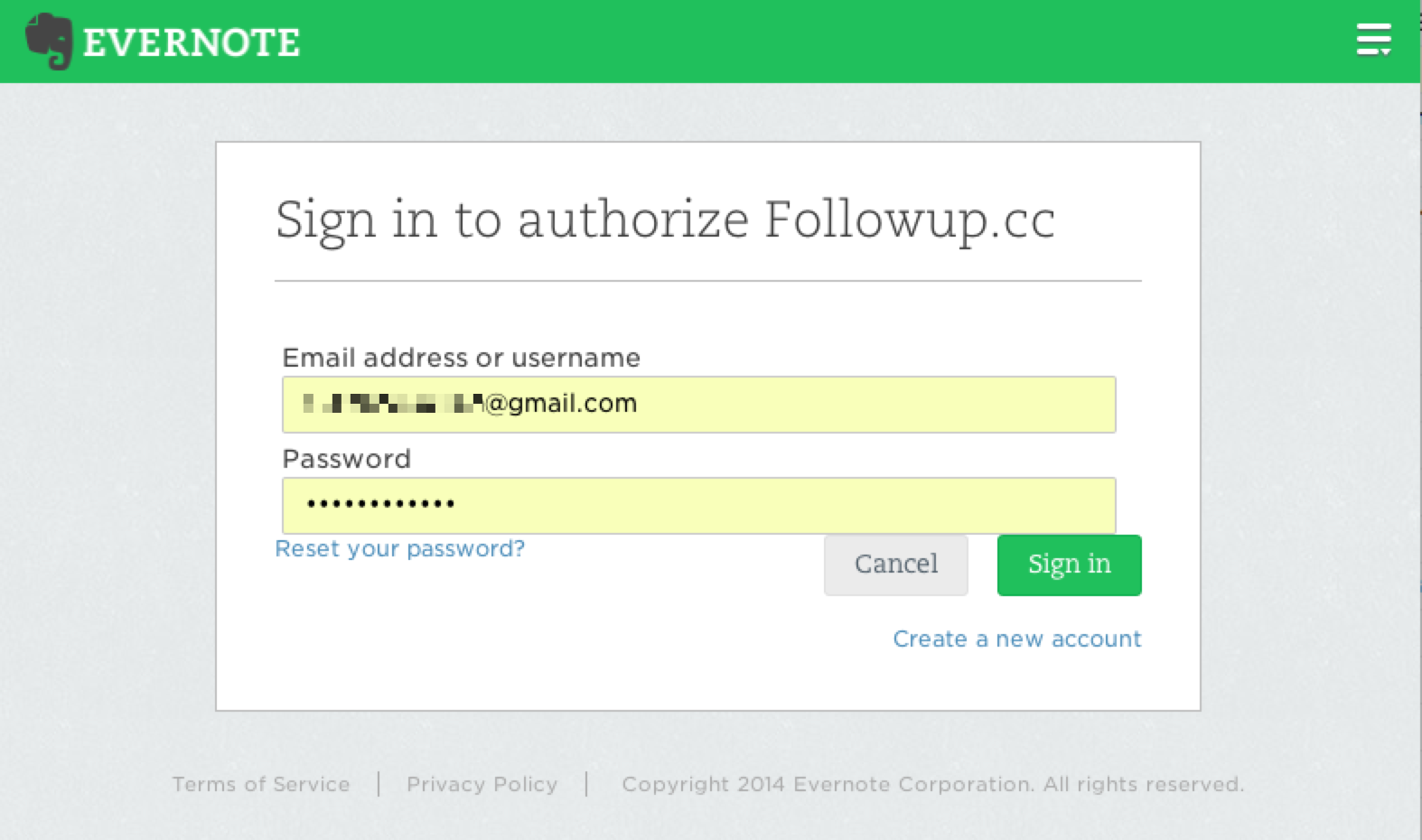 Once your account is authorized you can create Evernote notes directly from your inbox. If you have more than one email address in the system to have this feature, you will need to authorize each email account and follow these steps again.
How to create reminders in Evernote?
Creating reminders is the most powerful feature of Followup's Evernote Integration. These emails will create a note AND a reminder in Followup.
The reminder behaves just like a normal Followup reminder, and it will also show up as a reminder on the note. Also note that this feature supports recurring reminders. For instance, setting a reminder with 'everyweek' will send you a reminder once a week until it is cancelled. To create an Evernote reminder, send an email:

evernote.1week@followup.cc OR evernote.monday@followup.cc

You can set a reminder for any date, timeframe or time, and recurring event. To set a recurring reminder use 'every' or 'daily' or 'weekdays'. For example:

evernote.everymonday@followup.cc OR evernote.daily@followup.cc

To capture even more utility, Followup supports tagging and tasking as well. To add tags to notes, simply use a the # symbol. For example:

evernote.3days#clients@followup.cc
evernote.1month#fitness#boating@followup.cc
evernote.everymonday#meeting#agenda@followup.cc

Here is a tutorial oh how to create reminders in Evernote:

How to create an Evernote via email?
To create an Evernote out of your email, simply send an email to us:
evernote@followup.cc

To add tags to the note, use a hashtag:
evernote#meeting#notes@followup.cc

All notes created with Followup will be dropped into a notebook called 'Followup', and tagged with our 'followup' tag. Only notes tagged with the 'followup' tag will be tracked; all other notes will be completely private. Once the note is made, you can drag it into whatever folder you like. To stop us from tracking the note, simply delete the 'followup' tag and we'll stop synching our system with the note.
How to create follow-ups of your Evernotes?
It is very simple. Just add the 'followup' tag and set a reminder within Evernote.
Here's a video to see how to do this:

Evernote Troubleshooting
Q: My reminder is not setting!
Make sure your Evernote has the "followup" tag in it. This will happen automatically when you email a note from FollowUp.cc, but if it is removed your reminder will not be detected by FollowUp.cc. If it still in not working, email us in support for help.
Q: I set a recurring reminder, but I don't see it in Evernote. Where did it go?
Since Evernote doesn't have native support for recurring reminders, we can only show you the next occurrence of your reminder. To see more details about your reminder, check your FollowUp.cc calendar or your inbox for the confirmation email we send upon each note creation.
Q: I keep getting reminders from both Evernote and Followup. I only want Followup reminders.
Evernote sends out an email with your daily reminders. To turn off Evernote emails, navigate to 'Preferences' (under the 'Evernote' tab) and then select 'Reminders'. There is a checkbox that says 'Receive reminder emails'. Uncheck the box to stop recieving Evernote reminders in the mail. You will still receive reminders from Followup for all notes tagged with 'followup'. (You can also opt to turn off FollowUp.cc reminders on the settings page, but this will stop all reminders from being sent.)
Q: I put two Followup.cc addresses into the 'to' field of my email, but only one note got created. What gives?
Followup with Evernote currently only supports one Followup address at the same time. To create multiple reminders you can try recurring reminders, or simply send two emails.